Michael Symon's Pork Chili
Try This Tailgating Favorites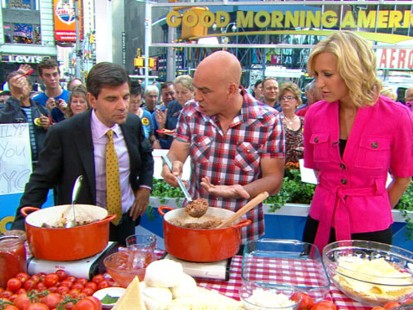 The "Iron Chef" cooks up mom's lasagna and zucchini crudo.
From the kitchen of Michael Symon
|
This recipe with ground pork is amazing, but if you want to take it to The Iron Chef level try it with pork cheeks. It is a little extra work but will really put your chili over the top.
Ingredients
4 teaspoons coriander seeds, toasted and ground
1 tablespoon sweet smoked paprika
1 teaspoon ground cumin
5 pounds ground pork
Kosher salt and freshly ground black pepper
4 tablespoons extra-virgin olive oil
1 pound slab bacon, cut into ½-inch dice
1 onion, finely chopped
3 garlic cloves, minced
2 jalapeno chilies, seeded and very finely chopped
2 red bell peppers, cored, seeded and finely diced
1 12 ounce bottle amber ale or porter
2 cups Chicken Stock
1 28-ounce can San Marzano tomatoes with their
juice
2 canned chipotles in adobo, seeded and minced
1 pound dried black-eyed peas (1 2/3 cups), picked
over and rinsed
1 small cinnamon stick
Shredded smoked cheddar cheese, for garnish
Fresh cilantro leaves, for garnish
Sliced scallions, white and green parts, for garnish
Crème fraiche, for garnish
Cooking Directions
In a large bowl, combine the coriander, paprika and cumin and toss with the ground pork. season with salt and pepper.
In a large enameled cast-iron Dutch oven, heat 2 tablespoons of the oil over medium-high heat. Add half of the pork and cook, turning as needed, until browned on all sides, about 8 minutes. Transfer the pork to a plate. Add the remaining 2 tablespoons of oil and brown the remaining pork. Transfer to the plate. Add the bacon to the pot and cook over medium heat, stirring occasionally, until browned and slightly crisp, about 7 minutes. Add the onion, garlic, jalapenos and bell peppers and cook, stirring occasionally, until the vegetables are softened, about 5 minutes.
Return the pork to the pot along with any accumulated juices. Add the ale, chicken stock, tomatoes, chipotles, black-eyed peas and cinnamon stick and bring to a boil. Cover and cook over very low heat until the meat and beans are tender, about 2½ hours.
Season the chili with salt and pepper. Spoon off the fat from the surface and discard the cinnamon stick. Serve the chili in bowls. Pass the smoked cheddar, cilantro, scallions and crème fraiche at the table.
If you use pork cheeks in place of ground pork you will have to clean them; with a sharp chef knives first trim off any excessive fat, then lay pork cheeks on a cutting board silverskin side down and with the tip of your knife remove all of the silverskin. You can do this by placing the tip of your knife between the silverskin and the meat turning it at a slight angle toward the silverskin. Pull on the silverskin while gently pushing the knife. When you are done flip the cheek over and clean off any remaining silverskin.
This recipe was styled by chef Karen Pickus for Good Morning America.
Recipe courtesy Michael Symon.
Other Recipes That You Might Like