Michael Symon's Ricotta Meatballs
A Comforting Winter Meal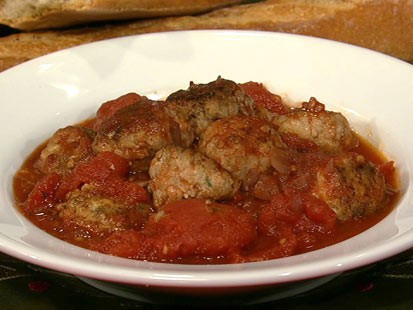 From the kitchen of Michael Symon
|
Ingredients
FOR THE MEATBALLS:
1/2 pound ground pork
1/2 pound ground beef
2 cups ricotta cheese drained
1 egg (beaten)
1/4 cup flatleaf parsley
A few gratings nutmeg
Salt (to taste)
Flour for dusting
Olive oil for frying
1 cup freshly grated Parmigiano-Reggiano
FOR THE SAUCE:
2 28 oz cans San Marzano tomatoes
3 cloves garlic sliced
1 medium onion diced
4 oz red wine
2 oz olive oil
2 tablespoons chile flakes
Cooking Directions
Combine ground pork & ground beef in a bowl. Add ricotta cheese and egg. Mix thoroughly. Stir in flat leaf parsley, Parmigiano-Reggiano, nutmeg, and salt. Sprinkle in flour. Form meat mixture into 1" balls.
Warm olive oil in sauté pan over medium-high heat. Fry meatballs until golden brown. Remove from pan & set aside.
Heat more olive oil in sauté pan over medium-high heat. Sweat onions and garlic cloves in olive oil until translucent (4-5 minutes). Deglaze pan by adding red wine, then cook until liquid is reduced by half. Add tomatoes and chile flakes, then bring to a simmer. Add salt to taste. Add meatballs, then simmer for 30 minutes. Serve with crusty bread and/or salad.
Recipe courtesy of The Chew.
Other Recipes That You Might Like