Michael Symon's Roasted Carrots with Feta and Mint
A Simple Side Dish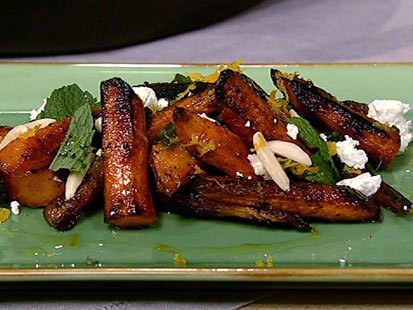 From the kitchen of Michael Symon
|
Ingredients
1 1/2 pounds carrots (cut into 2-inch chunks at a bias)
3 tablespoons Extra Virgin Olive Oil
Kosher Salt and freshly ground black pepper
1 tablespoon Toasted Whole Cumin Seeds
1 teaspoon honey
2 tablespoons sherry vinegar
For the Dressing:
1/4 cup Extra Virgin Olive Oil
1 orange (Zest and Juice)
1/4 cup mint (leaves only)
1 tablespoon sherry vinegar
1 tablespoon honey
1 shallot (thinly sliced)
1/4 cup slivered almonds
kosher salt
To Serve:
1 cup Feta (crumbled)
1 teaspoon orange zest
Olive oil
Cooking Directions
In a mixing bowl add carrots and toss with honey, vinegar, cumin seeds and 1 tablespoon of olive oil.
In an oven safe skillet over medium-high heat, heat the olive oil, then add the carrots. Season generously with salt and pepper and then toss to coat. Transfer to oven and roast for 20 minutes, or until carrots have caramelized and browned in spots.
Meanwhile, make the dressing by whisking together the extra virgin olive oil, orange juice and zest, honey, vinegar, mint leaves, shallot and almonds. Add a pinch of salt and set aside.
Once carrots have finished and cooled slightly, toss them in a large bowl with the dressing.
To serve garnish carrots with feta, orange zest and a drizzle of olive oil.
Recipe courtesy The Chew.
Other Recipes That You Might Like