Michael Symon's Sloppy Joes
Make These on Super Bowl Sunday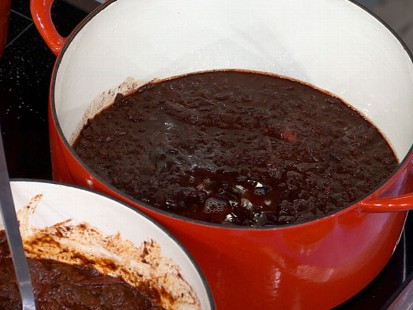 "The Chew" chef shows "GMA" anchors how to win big with Super Bowl dishes.
From the kitchen of Michael Symon
|
Ingredients
3 Tablespoons Olive Oil
4 Pounds venison meat from the leg, shoulder and/or shank, cut into 1 inch cubes
Kosher Salt
2 Cups small diced red onion
4 garlic cloves, minced
1 Tablespoon chipotle powder
2 Teaspoons cayenne pepper
2 Teaspoons smoked paprika
2 Teaspoons cumin seeds, toasted and ground
2 Teaspoons coriander seeds, toasted and ground
1 Teaspoon ground cinnamon
1 Teaspoon ground allspice
2 Tablespoons tomato paste
1 (750ml) bottle dry red wine
6 Tablespoons sherry vinegar
2 Tablespoons Dijon mustard
2 Tablespoons Sriracha sauce
½ Cup packed light brown sugar
1 (24 oz) can of crushed San Marzano tomatoes with their juice
¼ Cup chopped fresh oregano
1 Tablespoon granulated sugar
10 – 12 soft buns
Cooking Directions
Put large Dutch oven over medium-high heat. Add the olive oil to the pot and let it get hot. Pat the venison meat dry and season liberally with salt. Begin browning the meat, about 2 minutes per side. You may need to do this in batches so as not to crowd the pot. When browned on all sides, remove the meat from the pot with a slotted spoon and set aside.
Reduce the heat to medium-low, add the onion and garlic along with a pinch of salt, and cook for 2 minutes. Add the chipotle powder, cayenne, paprika, cumin, coriander, cinnamon, and all spice and cook for 2 minutes. Add the tomato paste and cook, stirring, for 2 minutes
Add the red wine, being sure to scrape up the browned bits on the bottom of the pot with a wooden spoon. Once it has reduced by half, about 5 minutes, add the vinegar, Dijon, Sriracha, and brown sugar and simmer until the sugar is dissolved, 2-3 minutes. Add the tomatoes and their juice and bring to a simmer.
Return the meat to the pot and add oregano and granulated sugar and simmer until the meat is tender, 3-4 hours. If the sauce is still a little loose, continue simmering until it reaches optimum sloppy joe consistency! Serve on buns.
Recipe courtesy Michael Symon.
This recipe was styled by chef Karen Pickus for Good Morning America.
Other Recipes That You Might Like