Michael Symon's Smoked Ribs with Lemon, Oregano & Honey
The Perfect Hint of Sweet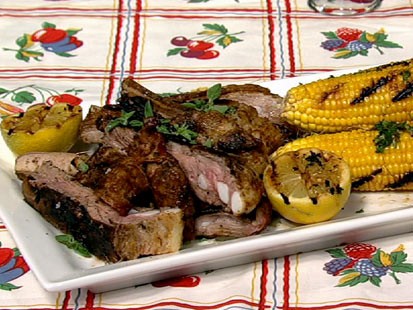 From the kitchen of Michael Symon
|
Ingredients
For the ribs:
3 tbsp dried oregano
3 tbsp garlic powder
2 tbsp smoked paprika
2 tbsp coriander seeds, toasted & ground
1 tbsp freshly ground black pepper
1 tsp kosher salt
6 racks pork spare ribs
2 lemons, juiced
For the glaze:
3 tbsp honey
1/4 cup red wine vinegar
2 garlic cloves, minced
1 cup red onion, minced
3 lemons
3 tbsp fresh oregano leaves
3 tbsp extra virgin olive oil
flaky sea salt for serving
3 tbsp lemon juice
Cooking Directions
Mix together the dried oregano, garlic powder, paprika, coriander, pepper and kosher salt. Moisten the ribs with lemon juice and then coat all sides with the rub, making sure to distribute evenly.
Set up your grill or smoker for indirect heat, meaning the ribs will not be directly over the heat source. Using low heat and apple-wood chips, put the ribs on the cool part of the grill, cover, and smoke for 1 hour.
Meanwhile, whisk together the glaze ingredients, reserving the lemons. Check for seasoning and add salt to taste.
Arrange 2 of the racks on a large piece of foil, overlapping them like roof shingles. Add the fresh oregano and pour one-third of the glaze on top of the ribs and seal tightly in the foil, being careful not to tear it. Wrap in a second sheet of foil. Repeat twice, using the remaining racks and glaze, reserving some glaze for brushing..
Return ribs to the grill and cook meat-side-down for 30 minutes over low heat. Flip the foil bundles and continue cooking for 30 minutes. Remove the ribs from the grill and let rest in the foil for 30 minutes.
Meanwhile, increase the grill heat to medium-high. Cut the lemons in half and grill flesh-side-down until nicely marked and slightly soft (3-5 minutes)
Remove the ribs from the foil, put on the hot grill meat-side-down, and cook for 4 minutes. Brush steak with remaining glaze. Flip and cook for 2 minutes. Remove the ribs from the grill and garnish with the grilled lemons, sea salt, and extra virgin olive oil.
Recipe courtesy The Chew.
Other Recipes That You Might Like