Michael Symon's Zucchini Crudo
Try This Light and Healthy Zucchini Salad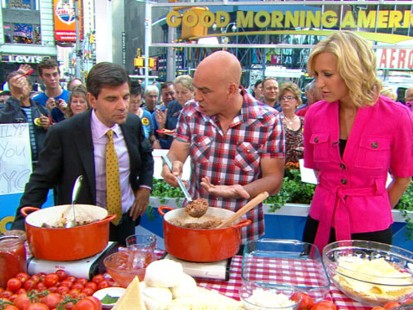 The "Iron Chef" cooks up mom's lasagna and zucchini crudo.
From the kitchen of Michael Symon
|
Try this light and refreshing zucchini crudo as a side dish to any healthy main course. Who knew healthy food tasted this good?
Ingredients
2 zucchini (about 3/4 pound), thinly sliced
2 yellow summer squash (about 1 1/2 pounds), thinly sliced
1 tablespoon plus 1/4 teaspoon kosher salt
1 teaspoon minced garlic
1 shallot, finely sliced
Grated zest and juice of 3 lemons, or to taste
1/2 cup extra-virgin olive oil
1/3 cup slivered or sliced almonds, toasted
1/3 cup chopped fresh dill
Cooking Directions
Combine the zucchini and yellow squash in a colander in the sink and sprinkle 1 tablespoon of the salt over it. Toss to coat, and set aside for 10 to 15 minutes, no longer.
In a large bowl, combine the garlic and shallot, sprinkle with the remaining 1/4 teaspoon salt, and whisk in the lemon zest and juice. Whisk in the olive oil in a steady stream, then the almonds and dill. Taste for seasoning and acidity (it should be nicely acidic). Add the zucchini and squash to the dressing, toss, and serve immediately.
This recipe was styled by chef Karen Pickus for Good Morning America.
Recipe courtesy Michael Symon.
Other Recipes That You Might Like