Milk Chocolate M&M Chess Pie
A Decadent Chocolate Treat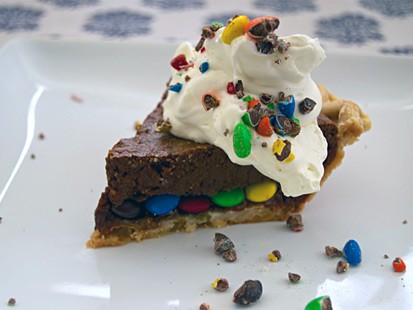 From the kitchen of Diane Henderiks
|
Try this M&M's milk chocolate chess pie recipe from chef John Besh for this year's Super Bowl.
Ingredients
1 package pie dough
4 ½ tablespoons cornmeal
¾ cup heavy cream
¾ cup evaporated milk
7 tablespoons granulated sugar
½ teaspoon salt
3 tablespoons butter, cold
7 tablespoons granulated sugar
5 egg yolks
1 teaspoon white vinegar
2 whole eggs
2 cups Milk Chocolate M&M'S
6 ounces Milk Chocolate
4 ounces Dark Chocolate
Cooking Directions
Preheat oven to 325 degrees. Line pie pan with prepared pie dough. Store in the fridge until ready to use.
Combine cornmeal, heavy cream, evaporated milk, first measure of granulated sugar and salt over medium heat. Bring mixture to a boil, reduce to a simmer and whisk constantly until thick and bubbly (3-5 minutes). Remove from heat and whisk in cold butter.
In a separate bowl whisk together the second measure of sugar, egg yolks, vinegar and whole eggs. Very carefully add some of the hot cornmeal mixture to the eggs, whisking constantly as not to curdle the eggs. Add all of the hot mixture in additions until it is all carefully incorporated. Whisk in chocolate until smooth.
Remove the prepared pie pan from the fridge and spread the Milk Chocolate M&M'S in a single layer across the bottom of the pan. Carefully pour the chess pie mixture over the M&M'S and spread evenly. Bake at 325 until the custard is just set in the middle. Remove from oven and allow to cool before serving.
Recipe courtesy M&M's.
Other Recipes That You Might Like