Mincemeat Pie
Mincemeat Pie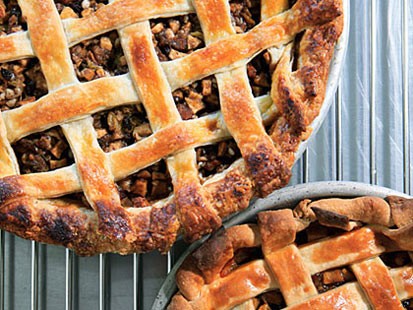 From the kitchen of Sunset Magazine
|
This version of the traditional British pie leaves out the beef so the fruit can shine, but still includes suet (beef fat) for a rich taste and texture--although you can use butter instead if you like. The filling has a zesty, spicy kick; if you'd like it to be more mellow, let it chill for at least 3 days.
For more great recipes from Sunset magazine, visit their site here.
Ingredients
CRUST
2 1/2 cups flour
1 tablespoon granulated sugar $
1 teaspoon kosher salt
1 1/2 cups cold butter, diced
1 teaspoon apple cider vinegar
FILLING
3 Gala apples $
1/2 cup dried apricots, figs, or prunes $
1 cup golden raisins $
1 cup currants
3/4 cup packed light brown sugar
3 ounces finely chopped cold beef suet* or finely chopped cold unsalted butter
1/3 cup brandy $
2 teaspoons lemon zest
3 tablespoons lemon juice
1 1/2 teaspoons orange zest $
3/4 teaspoon ground allspice
3/4 teaspoon ground cinnamon
1/2 teaspoon ground cloves
1/2 teaspoon kosher salt
1 tablespoon finely shredded fresh ginger
1 large egg, lightly beaten with 1 tsp. water
Granulated sugar $
Sweetened whipped cream
Cooking Directions
Make dough: Whirl flour, granulated sugar, and salt in a food processor. Add butter and pulse until mixture resembles coarse meal with some pea-size lumps.
Combine 1/2 cup ice water and the vinegar, pour into flour-butter mixture, and pulse until a ball begins to form. Turn out onto countertop (you'll have some crumbs) and gather into a ball. Divide evenly into 2 disks, wrap in plastic wrap, and chill until firm, at least 1 hour and up to 2 days.
Make filling: Peel and core apples, then chop finely or coarsely shred. Finely dice dried apricots. Combine with remaining filling ingredients (except egg, granulated sugar, and whipped cream) in a medium bowl, making sure suet is evenly distributed. Chill filling until you're ready to bake.
Preheat oven to 400°. Roll out 1 dough disk about 1/8 in. thick and ease into a 9-in. pie pan. Chill.
Roll out second disk about 1/8 in. thick. Cut into ten 1-in.-wide strips. Transfer to a baking sheet, cover with plastic wrap, and chill 15 minutes.
Stir mincemeat and spoon it into shell.
Make lattice crust: Lay 5 strips of pie dough vertically across pie, spacing evenly. Take the top of every other strip and fold it back halfway. Lay a new strip horizontally across center of pie, next to folds of vertical strips. Unfold vertical strips back over horizontal strip. Fold back vertical strips that were left flat last time, and repeat with a second horizontal strip, placing it above first strip (away from you). Repeat with a third horizontal strip above second. Repeat this process on lower half of pie, using remaining 2 strips of dough. Trim crust edges to 1 in. overhang, then fold bottom edge over top edge and crimp together. Brush lattice with egg mixture and sprinkle with granulated sugar.
Bake pie, tenting with foil if crust starts getting too dark, until golden brown and juices are bubbling, 50 minutes to 1 hour. Let cool to warm or room temperature before slicing. Serve with whipped cream.
*Order suet from your butcher, or from U.S. Wellness Meats (grasslandbeef.com).
Make ahead: Dough, up to 2 days, wrapped and chilled airtight. Filling, up to 2 weeks, chilled airtight.
Recipe courtesy Sunset magazine.
Other Recipes That You Might Like