Mixed Berry Spoon Cake
One-Dish Dessert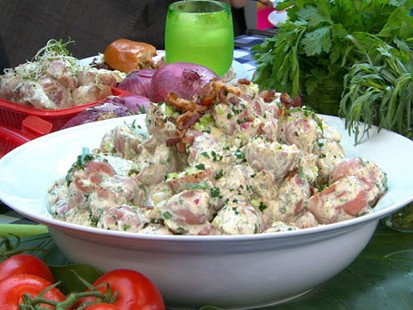 Food and Wine magazine editor makes potato salad with bacon and BBQ sauce.
From the kitchen of Food & Wine
|
"To vary the filling here, use 4 pounds of stone fruit (peaches, nectarines and apricots) cut into large wedges; or 4 pounds of plums, cut into 1-inch cubes; or 6 pints of blueberries plus 2 tablespoons of fresh lemon juice."
Check out Food & Wine's make-ahead picnic salad recipes.
Ingredients
For the filling:
4 pints strawberries (2 pounds), hulled and quartered
2 pints blackberries (12 ounces)
2 pints raspberries (12 ounces)
3/4 cup sugar
2 tablespoons cornstarch
For the batter:
1 1/2 cups all-purpose flour
1 cup sugar
2 teaspoons finely grated lemon zest
1 1/2 teaspoons baking powder
1 teaspoon kosher salt
2 eggs
1/2 cup milk
1 teaspoon pure vanilla extract
1 1/2 sticks unsalted butter, melted
Cooking Directions
In a bowl, toss the berries with the sugar and cornstarch and let stand for 10 minutes.
Preheat the oven to 375°. In a medium bowl, whisk the flour with the sugar, lemon zest, baking powder and salt. In a small bowl, whisk the eggs with the milk and vanilla. Whisk the liquid into the dry ingredients until evenly moistened, then whisk in the melted butter until smooth.
Spread the filling in a 9-by-13-inch baking dish. Spoon the batter on top, leaving small gaps. Bake in the center of the oven for 1 hour, until the fruit is bubbling and a toothpick inserted into the topping comes out clean. Let cool for 1 hour before serving.
This recipe was styled by chef Karen Pickus for Good Morning America.
Recipe courtesy Food & Wine.
Other Recipes That You Might Like