Happy Cakes by Renee's Mock Meatloaf
Foodie Fun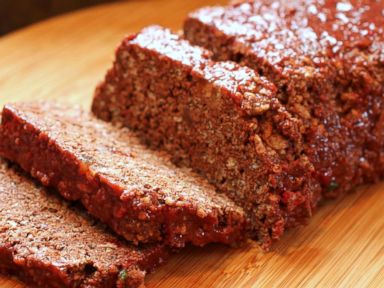 From the kitchen of Happy Cakes by Renee
|
Trick all your friends this April Fools' Day with this sneaky Mock Meatloaf.
Ingredients
For "Meatloaf"
7 cups Chocolate Rice Cereal Treats (Cocoa Krispies)
10-ounce Bag of Mini Marshmallows
2-3 Strips Green Fruit Leather (or fruit rollup)
2-3 Strips Red Fruit Leather (or fruit rollup)
5-6 pieces of dried Pineapple
2 tablespoons Unsalted Butter
3 tablespoons Powder
For "Ketchup Glaze"
4-5 tablespoons Gel from Canned Cherry Pie Filling
1/4 teaspoons Cocoa Powder
Cooking Directions
Butter a 9" by 5" loaf pan, a large mixing bowl and a spoon or spatula.
Cut the fruit leathers and dried pineapple into small pieces and set aside.
Crush 6 Cups of the Cocoa Krispies in a ziplock bag, with a rolling pin. Pour into a large mixing bowl and add 1 cup of uncrushed cereal. Add the cut up fruit leathers and pineapple and toss to combine.
Melt 2 tablespoons of unsalted butter in a large saucepan, over low heat. Add the 3 tablespoons of cocoa powder and stir until smooth. Add the Mini Marshmallows and stir until completely melted.
Pour the melted Marshmallow over the cereal mixture and quickly stir, use buttered hands, when stirring with a spoon becomes difficult. Press the mixture into the loaf pan, firmly to compact the cereal and make a dense texture. Allow the "meatloaf" to set for at least 30 minutes.
To make the "Ketchup Glaze," stir together 4-5 tablespoons of the gel from canned cherry pie filling with 1/4 teaspoon cocoa powder.
When the "meatloaf" has set, turn out onto a serving plate and use a pastry brush to paint on the "ketchup glaze." Slice with a serrated knife... and watch everyone be fooled!
Recipe created by
Happy Cakes by Renee and provided by Tastemade.
Other Recipes That You Might Like