MyRecipes' Soft Pretzels
Give Homemade Pretzels a Try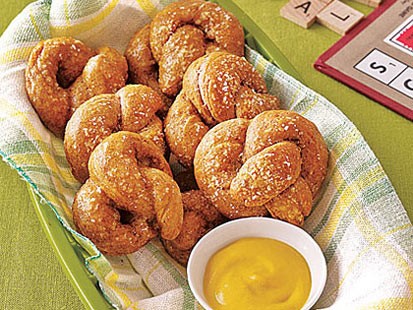 From the kitchen of MyRecipes
|
"Enjoy two soft, bready pretzels for under 100 calories. We love these topped with coarse salt but get creative and experiment with different toppings like cinnamon-sugar or Parmesan cheese."
For more great recipes, check out MyRecipes' e-cookbook, "100-Calorie Snacks"
Ingredients
1 package (2 1/4 teaspoon) active dry yeast
1 teaspoon sugar
1/2 teaspoon salt
1 1/2 cups whole-wheat flour
3/4 cup all-purpose flour
1/4 cup baking soda
1/4 cup coarse salt
Cooking Directions
Stir 1 cup warm water (105 degrees F to 110 degrees F), yeast, sugar and salt in an electric mixer fitted with a dough hook. Set aside until yeast has dissolved and mixture bubbles, about 5 minutes. Stir in both flours, set mixer speed to medium and knead with dough hook until dough is smooth and elastic, about 10 minutes. (Or, mix with a wooden spoon and knead by hand.) Transfer dough to an oiled bowl, cover with a clean kitchen towel and set aside in a warm, draft-free spot until doubled in size, about 1 hour.
Preheat oven to 425 degrees F. Oil 2 large baking sheets. Stir baking soda and 2 cups warm water in a bowl until dissolved.
Turn dough out onto a floured work surface; cut into 20 equal-size balls. Working with 1 at a time, roll and stretch each ball to form thin, 12- to 15-inch-long ropes. Twist each into a pretzel shape.
Use a slotted spoon to dip each pretzel into baking soda solution; place on a baking sheet. Reshape as needed. Sprinkle with coarse salt. Bake until browned, about 10 minutes. Remove sheets to a wire rack to cool for 10 minutes; transfer pretzels to rack to cool further.
yields: 20 pretzels
serving size: 2 pretzels
calories: 99
Recipe courtesy MyRecipes' e-cookbook, "100-Calorie Snacks"
Other Recipes That You Might Like