Okra Hash
A Delicious Side Dish for Fall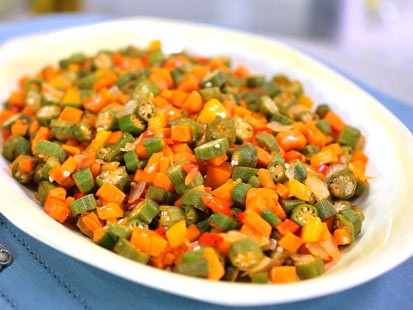 From the kitchen of Kimberly Schlapman
|
Kimberly Schlapman of the Grammy-nominated country group Little Big Town shares her recipe for okra hash.
Schlapman's new cooking show, "Kimberly's Simply Southern," premieres on GAC Saturday, Sept. 22 at 1pm ET.
Ingredients
2 tbsp olive oil
1/2 onion, small dice
2 cups sweet potato, small dice
3 cups okra, sliced
1/2 red bell pepper, small dice
1/2 yellow bell pepper, small dice
1/2 tsp smoked paprika
Salt
Pepper
Cooking Directions
Heat oil in a large sauté pan over medium heat. Add onions and cook for about 2 minutes until translucent.
Add the potatoes and cook for 3 minutes.
Add the okra, peppers and smoked paprika and continue to cook until potatoes are tender about 10-12 minutes.
Season with salt and pepper to taste.
September is Hunger Action Month and Little Big Town has partnered with ConAgra Foods' Child Hunger Ends Here campaign to raise awareness on hunger issues in America. Click here for more information.
Other Recipes That You Might Like