Home
>
GMA
>
Recipes Home
>
Oscars Dish: Wolfgang Puck's Shanghai Lobster With Spicy Ginger Curry Sauce and Crispy Spinach
Oscars Dish: Wolfgang Puck's Shanghai Lobster With Spicy Ginger Curry Sauce and Crispy Spinach
Curry, Chili Flakes and Ginger Give This Lobster Dish Great Flavor!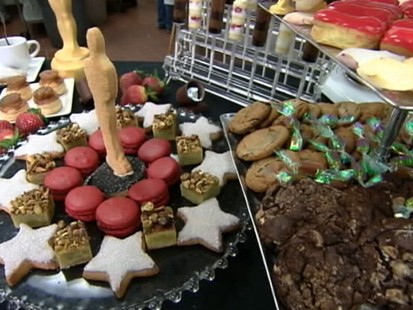 World-famous chef has prepared dinner for the Academy Awards 18 times.
From the kitchen of Wolfgang Puck
|
This recipe is part of Wolfgang Puck's menu for the 2012 Governor's Ball, the lavish celebration that immediately follows the annual Academy Awards.
Ingredients
2 pieces of fresh ginger
4 cloves of minced garlic
2 cups plum wine
1/2 cup rice vinegar
1 two-pound lobster, split in half
2 tablespoons peanut oil
2 tablespoons unsalted butter
5 scallions cut
3 teaspoons curry powder
1/2 cup heavy cream
1/2 teaspoon chili flakes
2 teaspoons soy sauce
Cooking Directions
Preheat the oven to 400 degrees F.
Peel the ginger, cut into fine julienne strips.
In a small saucepan cook the ginger with 1/2 cup of plum wine and rice vinegar. Remove from the heat and reserve.
Place sauté pan over high heat until very hot, add the oil and heat it almost to the smoking point. Carefully add the lobster, meat side down. Cook for 3 minutes.
Add 1 tablespoon butter and transfer the pan into the oven for about 10 minutes. Remove lobster and keep warm. Using the same sauté pan add garlic, scallions, chili flakes, and ginger. Sauté the mixture lightly for 15 seconds and add the plum wine, reduce the liquid to half, add the cream and reduce by half, season the sauce to taste with salt and pepper.
Arrange the lobster halves on a warm plate, meat side up. Strain the sauce over the lobster, and then sprinkle the sweet ginger on top. Garnish with crispy spinach.
RECIPE FOR CRISPY SPINACH
Cut the stems off large spinach and make sure it's dry.
Heat peanut oil to 375 degrees F. and fry the spinach until crisp. Be careful!
Remove the leaves to a paper towel, drain excess oil and add salt. The spinach should be a Jade green color.
This recipe was styled by chef Karen Pickus for "Good Morning America."
Other Recipes That You Might Like