Daniel Humm's Oven-Baked Asparagus
Top Restaurant Tips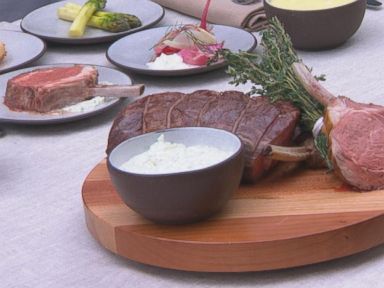 The executive chef of New York's Eleven Madison Park cooks up recipes you can make from his new cookbook.
From the kitchen of Daniel Humm
|
Eleven Madison Park in New York City is one of America's top restaurants for multiple reasons: the gorgeous décor, impeccable service and, of course, innovative food. Chef Daniel Humm shared the secrets of what makes his restaurant so highly-regarded on "Good Morning America," as well as recipes from his cookbook "I Love NY," like the Oven-Baked Asparagus below.
Ingredients
28 large asparagus
4 cloves garlic, crushed but kept whole
4 (1/8-inch-thick) slices lemon
4 sprigs thyme
4 tablespoons butter
Salt
Cooking Directions
Preheat the oven to 400°F. Remove the outer leaves from the asparagus tips, forming tight points. Trim away the woody ends of the asparagus and peel the stalks from the point down. Tie the asparagus with butcher's twine in 4 bundles of 7. Cut 4 pieces of parchment paper a little larger than twice the size of the asparagus bundles. Place 1 asparagus bundle on each piece of paper. Place 1 garlic clove, 1 lemon slice, and 1 thyme sprig on each bundle. Top with 1 tablespoon of butter and season with salt to taste. Fold the paper over the bundle to enclose, and fold the edges together to seal, creating a parchment paper pouch around the asparagus. Place the asparagus packages on a baking sheet and bake in the oven for 12 minutes. Remove from the oven and let rest in the pouches for 2 minutes before serving. Alternatively, you can grill the asparagus in their pouches over a grill.
Recipe courtesy Daniel Humm from "I Love NY."
Other Recipes That You Might Like