Pamela Fyffe's Mom's Country Apple Pie
Pie of Emeril's Eye Contest Honorable Mention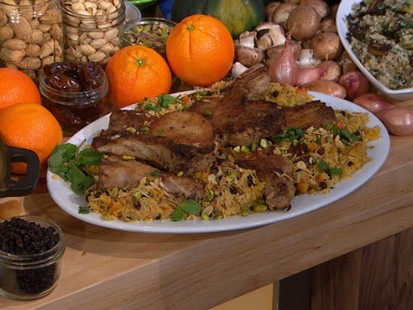 Emeril Lagasse prepares one-pot wonders from his new book, "Sizzling Skillets."
From the kitchen of Pamela Fyffe
|
This is my dad's favorite pie! This tradition started before my parents married. Dad and his commanding officer, andy anderson, had to visit another air force base. Andy's wife, eileen, made two pies for the trip. My dad never had a sweet tooth, but when he took one bite of that pie, he could not resist it. He and andy devoured the pies before returning home. My dad kept talking the pies! On their wedding day, the andersons tucked the recipe in their gift. After 56 years of marriage, mom still bakes this pie. However, in 2010, she was striken with breast cancer. All of us were fearful of losing her and her wonderful family traditions. Thankfully, she beat cancer. Today, we celebrate her life with her famous country apple pie. Which has a most unique creamy taste!
Ingredients
¾ cup sugar
4 tablespoons flour
¼ teaspoon salt
½ teaspoons cinnamon
1 cup heavy cream
5 cups thinly sliced crisp apples topping: (mix & sprinkle on filling)
1/2 teaspoon cinnamon
2 tablespoons sugar crust: (buy premade or make)
1 ¼ cups all purpose flour
¼ teaspoon salt
½ cup butter - chilled, diced
Cooking Directions
Mix batter, pour over apples, fill crust.
Bake at 375 degrees for 1 hour.
This recipe was styled by chef Karen Pickus for Good Morning America.
Other Recipes That You Might Like