Home
>
GMA
>
Recipes Home
>
Emeril Lagasse's Pan-Roasted Brussels Sprouts with Caramelized Onions and Crispy Pancetta
Emeril Lagasse's Pan-Roasted Brussels Sprouts with Caramelized Onions and Crispy Pancetta
A Kicked Up Side Dish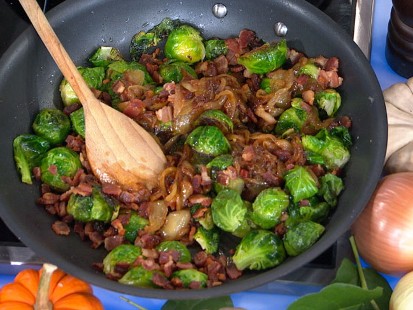 Lagasse whips up voter favorite roasted Brussels sprouts with caramelized onions and pancetta.
From the kitchen of Emeril Lagasse
|
Emeril Lagasse's phrase, "kick it up a notch" became famous for a reason???the New Orleans-raised chef raises flavors to the next level. This year, take your Thanksgiving to Emeril's star status with his recipe for Pan-Roasted Brussels Sprouts with Caramelized Onions and Crispy Pancetta.
Ingredients
3 tablespoons olive oil
6 ounces pancetta, diced
3 large yellow onions, thinly sliced (about 4 cups)
1 ?? teaspoons sea salt
?? teaspoon black pepper
2 pounds Brussels sprouts, stems trimmed and cut in half lengthwise
Cooking Directions
Preheat the oven to 400?? F.
In a large saut?? pan, heat 1 tablespoon of the oil over medium heat. When hot, add the pancetta and cook until crisp, 5 to 6 minutes. Using a slotted spoon, transfer the pancetta to a baking sheet lined with paper towels and set aside. Add the onions, ?? teaspoon of the salt and ?? teaspoon of black pepper to the pan and cook, stirring until the onions are caramelized, about 30 minutes.
In a large 14-inch saut?? pan, heat the remaining 2 tablespoons of olive oil over medium high heat and when hot, add the Brussels sprouts and the remaining salt and pepper. Cook until the sprouts are golden brown on one side, 4 to 5 minutes. Transfer the pan to the oven and cook until tender, about 15 minutes.
Add the onions and pancetta to the Brussels sprouts, toss well, and return to the oven for 5 minutes longer.
Serve immediately.
Recipe courtesy Emeril Lagasse, Emeril's Italian Table, Bethlehem, PA
This recipe was styled by chef Karen Pickus for Good Morning America.
Other Recipes That You Might Like