'Pavarotti Pizza Man''s Famous Antipasti Pizza
'Pavarotti Pizza Man''s Famous Antipasti Pizza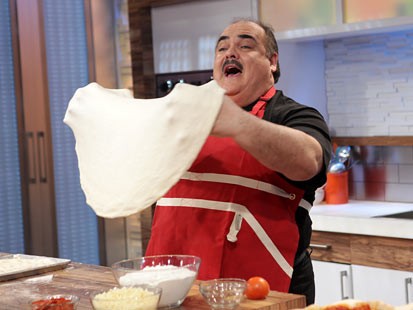 From the kitchen of Carmelo Raccuglia
|
"Pavorroti Pizza Man" Carmelo Raccuglia's antipasti pizza, a favorite of his customers at the Stage Door East Deli and Pizzeria in Farmingdale, Long Island, will have you and your family signing a new tune when it comes to pizza.
Ingredients
pizza dough, cheese, tomatoes, olive oil, balsamic vinegar
Cooking Directions
Spread sliced tomatoes over a pre-baked pizza crust (store-bought dough is fine).
Layer on top of the tomatoes the roasted red peppers, black olives and fresh basil. Season with salt and pepper to taste. Spread Parmesan cheese over the pizza, and then drizzle with extra virgin olive oil and balsamic vinegar.
Serve cold.
Other Recipes That You Might Like