Tasting Table's Pea Soup with Jambon Chips
Easter Eats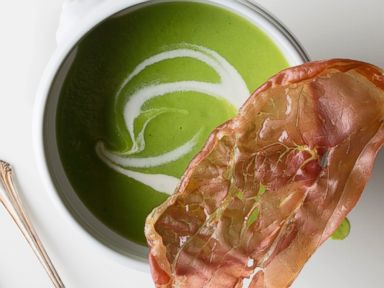 From the kitchen of Tasting Table
|
Easter classics like honey-baked ham and deviled eggs have made appearances at your holiday table for the last how many years? Spice things up this time with an updated recipe that evokes all things spring: TastingTable.com's take on Pea Soup with Jambon Chips.
Ingredients
6 slices of jambon Serrano, thinly sliced
2 tablespoons olive oil
1 medium yellow onion, thinly sliced
2 cups finely chopped leeks
Bouquet garni (1 sprig of thyme, 1 bay leaf and and 1 lemon peel tied with kitchen twine in a square of cheesecloth)
5 cups plus 1 tablespoon water
1/2 cup mint leaves, loosely packed
1 cup of loosely packed flat-leaf parsley leaves
4 cups fresh peas
1/4 cup creme fraiche
Cooking Directions
Preheat oven to 350 degrees F. Place the jambon slices on a baking sheet and bake in the oven until the ham has shrunk and become crispy, about 7 minutes. Allow the jambon to cool completely. Set aside.
In a large pot over medium high heat, heat the olive oil. Add the onions and leeks and cook until softened but not colored, about 8 minutes. Add the bouquet garni and saute for another minute. Add five cups of the water and bring to a boil.
Add the parsley and peas and simmer until the peas have just cooked and the parsley has wilted, about 6 minutes.
Remove the pot from heat. Remove and discard the bouquet garni. Transfer the soup to a blender and blend in batches until pureed. Pass the soup through a sieve, discarding any solids.
Whisk the creme fraiche with the remaining 1 tablespoon of water in a small bowl. Divide the soup among 6 bowls. Serve warm with a drizzle of the creme fraiche mixture and the jambon chips.
Recipe courtesy TastingTable.com.
Other Recipes That You Might Like