Tate's Bake Shop's Peanut Butter Chocolate Chip Cookies
Crazy for Cookies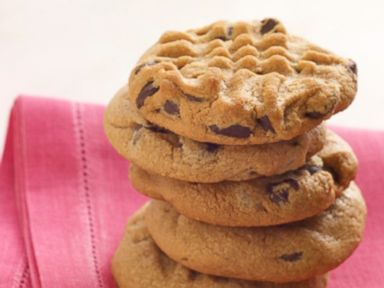 From the kitchen of Tate's Bake Shop
|
Celebrate National Chocolate Chip Day with these Peanut Butter Chocolate Chip Cookies from Tate's Bake Shop.
Ingredients
1 1/2 cups unbleached all-purpose flour
1/4 cup vegetable shortening or coconut oil
1 teaspoon baking soda
1 large egg plus 1 large egg yolk, at room temperature
1/4 teaspoon salt
1/2 teaspoon pure vanilla extract
1 cup firmly packed dark brown sugar
1 cup smooth peanut butter
4 tablespoons (1/2 stick) salted butter, at room temperature
1 1/2 cups (9 ounces) chocolate chips
Cooking Directions
Position the oven racks in the top third and center of the oven and preheat the oven to 325°F. Line 2 large rimmed baking sheets with parchment paper or silicone baking mats.
In a medium bowl, whisk together the flour, baking soda, and salt. In a large bowl, beat the brown sugar, butter, and shortening with an electric mixer set on high speed until combined, about 1 minute. Beat in the egg, followed by the egg yolk and vanilla. Add the peanut butter and mix well. With the mixer on low speed, mix in the flour mixture, just until combined. Mix in the chocolate chips.
Roll the dough into 30 walnut-sized balls. Arrange about 2 inches apart on the prepared baking sheets. Using a dinner fork, press an X into the top of each cookie, flattening it to about half of its original thickness. Refrigerate the remaining dough balls on a plate while you bake the first batch.
Bake, rotating the positions of the sheets from top to bottom and front to back halfway through baking, until the cookies are golden brown, about 20 minutes. Let cool on the baking sheets for 5 minutes. Transfer to a wire cooling rack and let cool completely. Repeat with the remaining dough balls, using cooled baking sheets.
Other Recipes That You Might Like