Penne with Grilled Chicken and Vodka Sauce
Try This Guilt-Free Version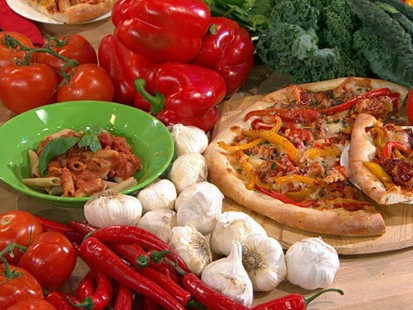 Ellen Kunes, Frances Largeman-Roth explain how to lose weight and eat great.
From the kitchen of The CarbLovers Diet Cookbook
|
This restaurant favorite is usually made with bucket-loads of heavy cream and butter. We opted to use a little olive oil and half-and-half (lighter than cream), which still gives you a wonderful, creamy texture.
Ingredients
1 tablespoon olive oil
1 small onion, finely diced (1 cup)
2 minced garlic cloves
1 (26-ounce) low-sodium can diced tomatoes in juice
1 (8-ounce) can no-salt-added tomato sauce
½ cup vodka
¼ teaspoon crushed red pepper
¼ cup half-and-half
¼ teaspoon salt
¼ teaspoon freshly ground pepper
4 cups cooked whole wheat penne pasta
3 (4-ounce) grilled boneless, skinless chicken breasts
2 tablespoons chopped fresh basil
Cooking Directions
Heat oil in a medium saucepan over medium-high heat. Add onion and cook until soft and translucent, 6-7 minutes. Add garlic and cook 1 minute.
Add tomatoes with juice, tomato sauce, vodka, and crushed red pepper, then bring to a boil.
Reduce heat and cook, stirring occasionally, until sauce reduces slightly, about 10 minutes.
Add half-and-half, and cook until sauce reduces, 5 minutes. Stir in salt and pepper.
Place 2/3 pasta in a bowl and top with ½ cup vodka sauce.
Arrange 2 ounces grilled chicken on top of pasta and garnish with chopped basil.
Serving size: 2/3 cup pasta, ½ cup sauce, and 2 ounces chicken Calories 360; Fat 6.3g
(sat 1.8g, mono 2.8g, poly 1g); Cholesterol 52mg;Protein 25g; Carbohydrate 39g;
Sugars 7g; Fiber 4g; RS 1g; Sodium 206mg
This recipe was styled by chef Karen Pickus for Good Morning America.
Recipe courtesy The CarbLovers Diet Cookbook.
Other Recipes That You Might Like