Home
>
GMA
>
Recipes Home
>
Pie of Emeril's Eye Contest Finalist: Robert's "Drunken" Apple Pie With Maple Whipped Cream
Pie of Emeril's Eye Contest Finalist: Robert's "Drunken" Apple Pie With Maple Whipped Cream
Recipe Courtesy Robert Obst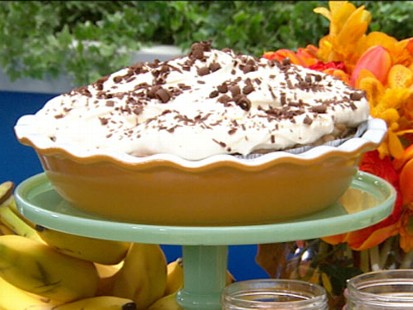 Chef introduces America to final five in his "Pie in Emeril's Eye" contest.
From the kitchen of Robert Obst
|
In Robert's family, his mom is the "Pie Queen." He says this pie "Leaves his mama's in the dust." This pie began from a family tradition of apple picking in the Virginia Blue Ridge. Robert says, "I thought I would kick it up a few notches for Emeril by topping it with a maple Jack Daniels whipped cream and my amazing vanilla sauce. Every bite reminds me of trekking through the orchard with family searching for the perfect apple."
Ingredients
For the crumb:
1 C flour,
1 C Brown Sugar,
10 T unsalted Butter,
1/2 C Old Fashion Oats,
1/4 C Chopped walnuts,
1/2 t cinnamon,
1/2 t salt
Crust:
1 13/4 C flour (sifted),
7 oz unsalted butter,
1/2 t salt,
3 T ice water
For the apple filling:
7 C staymen apples pealed, cored, and sliced thin
juice 1 lemon
1/2 C sugar
2 T cinnamon
1 T flour
For the vanilla sauce:
1 qt whole milk,
1/2 C sugar,
1/4 C corn starch,
1 vanilla bean
For the Jack Daniels maple whipped cream:
1/2 pint cream,
2 T maple syrup,
1 T Jack Daniels.
Cooking Directions
For the crumb:
Mix all ingredients except butter, then cut in butter with a pastry blender until well blended and crumbly.
For the crust:
Mix flour, butter, and salt in a mixer with a paddle till small pebbles/sand begin to form then add the water it will start to ball. Stop mixing form into a ball and flatten to a disk and refrigerate for at least a half an hour. Roll disk to about 1/4 inch thick and form to a 9 inch spring form pan with the excess over hanging. Place in the refrigerator for a half an hour. Remove from fridge and line with parchment paper and fill with beans. Blind bake at 375 degrees for 35 min. Remove from oven and cool. Remove the excess crust with a sharp knife.
For the apple filling:
Toss all ingredients together and place in the cooled pie crust. Top with the crumb mixture and bake at 375 for 45 minutes.
For the vanilla sauce:
Mix milk, sugar, and vanilla together in a med. saucepan over medium heat. Just before scalding add some of the mixture to a mug and combine with the cornstarch. Poor mixture into saucepan. Stirring constantly bring to a simmer. Remove from heat and reserve.
For the Jack Daniels maple whipped cream:
Whip all ingredients together until stiff. Slice a piece of pie, drizzle with vanilla sauce and finish with a dollop of whipped cream. Enjoy!
This recipe was styled by chef Karen Pickus for Good Morning America.
Other Recipes That You Might Like