Ann Romney's Pork Tenderloin with Roasted Olives
Whip Up This Dish For Your Family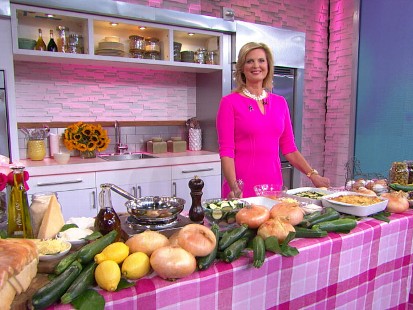 Wife of 2012 presidential candidate on new cook book "The Romney Family Table."
From the kitchen of Ann Romney
|
Ann Romney is a mother of five and grandmother to 22. In her new cookbook, "The Romney Family Table: Sharing Home-Cooked Recipes & Favorite Traditions," Romney shares recipes that have kept her family well fed and happy. Try this pork recipe that Romney recommends serving with roasted sweet potatoes and homemade applesauce on the side.
Ingredients
2 pork tenderloins (1 pound each) Salt and pepper
For the Roasted Olives:
3 cups mixed green and black olives with pits
2 lemons
1/2 cup olive oil
2 cloves garlic, sliced
5 sprigs thyme, stems removed
3 sprigs rosemary, stems removed
3 bay leaves
1 teaspoon salt
Cooking Directions
Preheat oven to 350 degrees F. Sprinkle salt and pepper over tenderloins; wrap individually in
foil and place on baking sheet. Roast 40 minutes.
Place olives in a bowl. Zest the lemons and spread over olives. Squeeze lemon juice over olives. Add remaining ingredients and toss. Place olives in single layer on baking pan and roast at 350 degrees F. 15 minutes.
Remove roast from foil and let stand 10 minutes. Slice meat and top with roasted olives.
Reprinted with permission from "The Romney Family Table." Photography credit: Mark Louis Weinberg.
Other Recipes That You Might Like