FOOD & WINE's Potato, Snap Pea and Pickle Salad
Outdoor Eats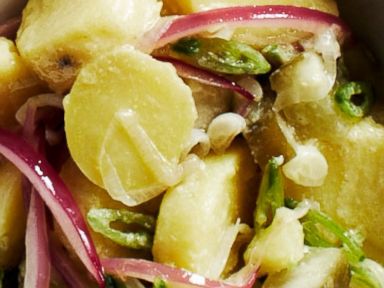 From the kitchen of FOOD & WINE
|
Memorial Day officially kicks off grilling season, and Gail Simmons, FOOD & WINE special projects director and a judge on Bravo's Top Chef, stopped by "Good Morning America" to share the ultimate outdoor dishes. Try FOOD & WINE's recipe for Potato, Snap Pea and Pickle Salad below.
Ingredients
1 pound small, round new potatoes
6 tablespoons extra-virgin olive oil
1 red onion, thinly sliced
3 scallions, white and light green parts only, thinly sliced
1 tablespoon Dijon mustard
1 tablespoon fresh lemon juice
2 small half-sour pickles, finely chopped
1/2 cup sugar snap peas, thinly sliced on the bias
Kosher salt
Freshly ground pepper
Cooking Directions
In a large saucepan of boiling water, cook the potatoes until tender, about 20 minutes. Drain and cool slightly. Peel and slice 1/4 inch thick.
Meanwhile, in a large skillet, heat 3 tablespoons of the olive oil. Add the red onion and scallions and cook over moderate heat, stirring occasionally, until softened and golden, about 10 minutes.
In a small bowl, whisk the remaining 3 tablespoons of olive oil with the mustard and lemon juice. Add the dressing to the skillet along with the potatoes, pickles and snap peas and season with salt and pepper. Cook over moderately low heat, tossing, until just warmed through, then serve.
Recipe courtesy of FOOD & WINE magazine.
Recipe styled by Karen Pickus for Good Morning America.
Other Recipes That You Might Like