Pumpkin Cheesecake Bars
Excerpted From the MyRecipes "America's Favorite Food" Cookbook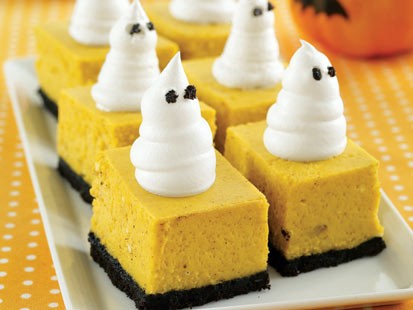 From the kitchen of My Recipes
|
Try this recipe from MyRecipe's new cookbook. The interactive book lets you scan each page for customizable recipes, how-to videos and shopping lists.
"These cheesecake bars aren't meant to just haunt the dessert table at your Halloween party, the memory of their delicious pumpkin flavor will haunt your dreams for nights to come. They're cute, edible, and over-the-top tasty. What more can we say?"
Makes 12 bars.
Ingredients
For the crust:
20 crème-filled chocolate sandwich cookies
2 1/2 tablespoons unsalted butter, melted
For the filling:
2 8-oz. packages cream cheese, at room temperature
1 cup sugar
1 cup canned pumpkin puree
3 large eggs, at room temperature
1 teaspoon vanilla extract
3 tablespoons all-purpose flour
1 teaspoon pumpkin pie spice
1/4 teaspoon salt
Garnish: whipped cream ghosts
Cooking Directions
Preheat oven to 350ºF. Line an 8-inch-square pan with foil so that foil overhangs sides. Mist with cooking spray.
Make crust: Process cookies in food processor until ground. Pulse in butter. Press evenly into pan. Bake until firm, 10 to 12 minutes. Cool slightly.
Make filling: With an electric mixer on medium speed, beat cream cheese and sugar until smooth, about 2 minutes. Beat in pumpkin, then eggs, 1 at a time. Beat in vanilla, flour, spice and salt until just combined.
Pour mixture into pan. Put pan on a large rimmed baking sheet; place in oven. Pour hot water into baking sheet until it's nearly filled. Bake until cheesecake is set around edges but jiggles slightly in center, 40 to 45 minutes. Remove pan from sheet; cool completely on rack. Cover with plastic wrap. Chill until firm, at least 3 hours.
Note: to garnish these bars, pipe whipped cream in a circular, upward motion atop each bar. Use mini chocolate chips or chocolate cookie pieces for eyes.
Recipe courtesy My Recipes "America's Favorite Food."
Other Recipes That You Might Like