Rachael Ray's Pumpkin, Penne & Cabbage
A Halloween-Themed Pasta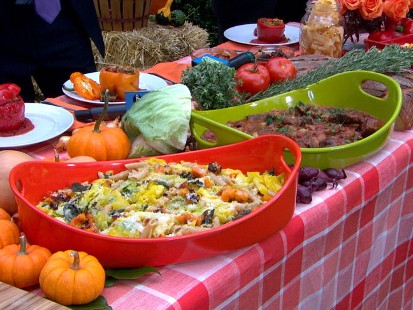 Food Network star shows "GMA" anchors festive recipes timed for Halloween.
From the kitchen of Rachael Ray
|
Celeb chef Rachael Ray has provided hundreds of quick and delicious weeknight dinners over the years, but her new book, "Week In A Day," takes the concept of fast and family-friendly even further, allowing busy cooks to prepare a week's worth of meals in a single day. Try one of these multi-tasking recipes for her Pumpkin, Penne & Cabbage.
Ingredients
1 small sugar pumpkin or 1 medium butternut squash, peeled and cut into bite-size pieces
Olive oil cooking spray
Salt and pepper
Freshly grated nutmeg
A fat pinch of saffron threads
2 cups chicken stock
1 pound cabbage, cored and thickly sliced
6 tablespoons (¾ stick) butter
18 to 20 fresh sage leaves
1 pound buckwheat, farro, or whole wheat penne
1 cup grated Parmigiano-Reggiano cheese, plus more for topping
Cooking Directions
Preheat the oven to 400°F.
Arrange the pumpkin on a baking sheet and lightly coat with olive oil spray. Season with salt, pepper, and a little nutmeg. Roast to tender and brown at the edges, about 20 minutes.
[If making this to serve on Cook Day, leave the oven on, but reduce the temperature to 375°F. If making this to serve later in the week, you'll preheat the oven the night of.]
Meanwhile, in a large saucepan, combine the saffron, stock, and cabbage. Bring to a low boil, reduce the heat to a simmer, cover, and cook until very tender, about 20 minutes.
Bring a large pot of water to a boil.
In a medium skillet, melt the butter over medium heat. Add the sage and fry to crisp. Transfer the leaves to paper towels to drain, then crumble. Return the pan to the heat and cook the butter to lightly brown.
Salt the boiling water and cook the pasta al dente. Drain the pasta and add it to the cabbage. Add the squash, browned butter, and fried sage and toss to combine. Transfer to a 10 by 14-inch casserole. Top with the Parm.
[Make-ahead: Let cool, cover, and refrigerate.]
[Night of: Return the casserole to room temp while you preheat the oven to 375°F.]
Bake, loosely covered with foil, until heated through. Uncover, top with a little Parm, and broil to crisp at the edges.
This recipe was styled by chef Karen Pickus for Good Morning America.
Copyright © 2013 by Rachael Ray from WEEK IN A DAY published by Atria Books, a division of Simon & Schuster, Inc.
Other Recipes That You Might Like