Karla Martinez's Quesadillas con Queso Oaxaca
Easiest Mexican Dinner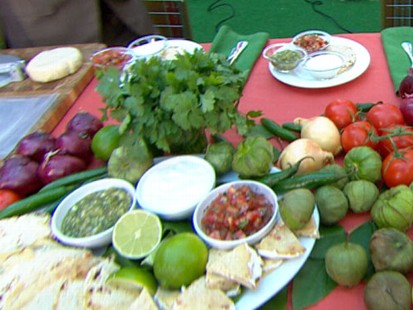 The host of "La Cocina de Karla" cooks up her favorite Latin American dishes.
From the kitchen of Karla Martinez
|
Karla Martinez, the co-host of Univision's "Despierta America," helped celebrate the launch of the new TV network, Fusion, by dishing up some of her Latin recipes on "Good Morning America." Find out how to make her recipe for quesdaillas con queso oaxaca below.
Ingredients
12 homemade tortillas
8 ounces string cheese, Oaxaca style (pre-shredded)
Cooking Directions
Sprinkle two tablespoon of the cheese over half of each tortilla. Fold tortilla in half, pressing gently.
In a large skillet or on a griddle, cook quesadillas two at a time over medium heat for three to four minutes or until lightly browned, turning once. Remove quesadillas from skillet and place on a baking sheet, keep warm. Repeat with remaining quesadillas.
Serve with salsa verde , Mexican cream and salsa fresca (pico de gallo).
This recipe was styled by chef Karen Pickus for Good Morning America.
Recipe printed with permission of Karla Martinez.
Other Recipes That You Might Like