Rachael Ray's Cider Beef
Tasty Beef Flavored With Bacon and Apples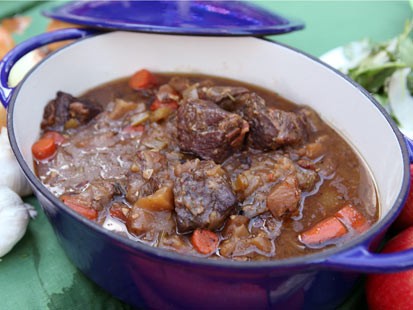 From the kitchen of Rachael Ray
|
Try Rachael Ray's cider beef recipe. It's the perfect dish for a family dinner or fall feast.
Ingredients
2 heads garlic, tops cut off to expose the cloves
EVOO, for drizzling
Salt and pepper
1/4 to 1/3 pound thick-cut uncured bacon, cut into fat batons
6 tablespoons (3/4 stick) butter
21/2 to 3 pounds beef chuck, cut into 2-inch cubes
2 tablespoons flour, plus more for dredging the beef
3 carrots, sliced in 2-inch chunks on an angle
2 apples, such as Honeycrisp, peeled and chopped
2 or 3 ribs celery, chopped
1 large onion, chopped
2 fresh bay leaves
2 to 21/2 cups organic cider (it should look cloudy)
2 (10.5-ounce) cans beef consommé
Cooking Directions
Preheat the oven to 400°F.
Drizzle the garlic with EVOO, season with salt and pepper, wrap in foil, and roast to tender, 40 to 45 minutes. Take out the garlic and leave the oven on but reduce the temperature to 325°F.
Heat a large Dutch oven over medium-high heat. Add a drizzle of EVOO and the bacon. Brown and crisp the bacon, then remove with a slotted spoon and set aside. Pour some of the fat out of the pan and add 2 tablespoons of the ­butter.
Pat the meat dry and season liberally with salt and pepper. Dredge in flour and add to the hot pan in batches. Cook to crispy and deep brown. Add more butter as needed, 2 tablespoons at a time. Set the browned meat aside with the bacon.
Add to the pan the carrots, apples, celery, onion, bay leaves, and salt and pepper to taste and partially cover. Cook to soften the vegetables for a few minutes, then sprinkle with 2 tablespoons flour. Stir for a minute, then add the cider and consommé. Squeeze the roasted garlic into the pan and stir to combine. Add the reserved beef and bacon back to the pan, bring to a boil, then cover and transfer to the oven. Braise the meat until very tender and the sauce has thickened, about 2 hours.
Let stand for 20 minutes. Remove the bay leaves before serving.
Recipe courtesy Rachael Ray.
This recipe was styled by chef Karen Pickus for Good Morning America.
Other Recipes That You Might Like