Rachael Ray's Guacamole
A Healthy Snack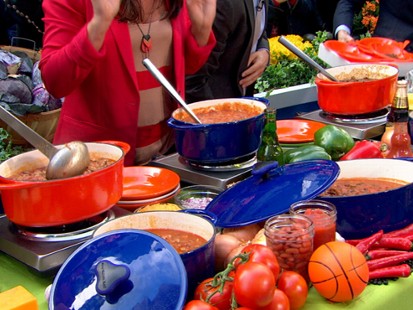 TV-chef puts unique twists on guacamole and a chili bar that is sure to impress.
From the kitchen of Rachael Ray
|
Make this as an after-school snack or while watching a game.
Ingredients
1/2 small red onion, finely chopped
Juice of 1 lemon
Juice of 1 lime
Salt
2 avocados
1 large jalapeño pepper, seeded and finely chopped
A small handful of cilantro leaves, finely chopped
1 large clove garlic or 2 medium cloves garlic, pasted or grated
Cooking Directions
In a mixing bowl, douse the red onion with the citrus juice and a liberal sprinkle of salt. Let stand for 10 minutes.
Halve and pit the avocados. Scoop the flesh into a bowl and add the jalapeño, cilantro, garlic, and the onions. Mash with a fork into a fairly smooth dip. Adjust the seasonings, to taste.
This recipe was styled by chef Karen Pickus for Good Morning America.
Recipe courtesy Rachael Ray.
Other Recipes That You Might Like