Rachael Ray's Matzo-Pizza Lasagna
Try this Weeknight Dinner Staple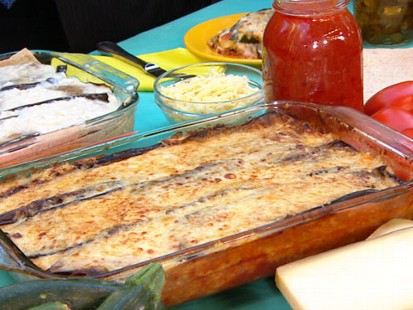 Host of the "Rachael Ray Show" prepares her Autumn Golden Vegetable Lasagna.
From the kitchen of Rachael Ray
|
MATZO: Thin, crisp matzo makes an idea layer in this pizza-lasagna mash up. It softens when baked but holds all the wonderful toppings together. There's no dough to stretch or noodles to boil..it's just two favorite meals combined to make one killer casserole.
Ingredients
4 tbsp EVOO
10 cremini mushrooms, sliced
1 onion, finely chopped
1 small green bell pepper, thinly sliced (optional)
8 oz Italian sausage (sweet or hot) casings removed
4 cups jarred marinara sauce
5-6 square sheets matzo
1 container (15 oz) ricotta cheese, preferably fresh
1 ?? cups shredded mozzarella
1 ?? cups thinly sliced pepperoni
1 tsp. dried oregano
Cooking Directions
In a large skillet, heat 2 tbsp EVOO over medium heat. Add the mushrooms and cook until nicely browned, about 5 minutes. Add the onion, lower the heat to medium and cook, stirring, until golden and tender, about 5 minutes. Transfer to a plate
In the same pan, heat the remaining 2 tbsp. EVOO over medium heat. Add the bell pepper and cook for 2 minutes. Add the sausage, crumbling with a wooden spoon, and cook over medium-high heat, stirring occasionally, until browned, about 3 minutes. Remove from the heat.
Position a rack in the center of the oven and pre-heat to 400 degrees. Lightly grease an 8-inch square glass baking dish and add 1 cup marinara to the bottom, tilting up to coat. Top with 1 matzo. Break off a piece from a another matzo to evenly cover the bottom. Layer on ?? cup marinara, the mushroom mixture, half the ricotta, ?? cup marinara and ?? cup mozzarella
Add another layer of matzo, 1 cup marinara, the sausage mixture, the remaining ricotta, ?? cup marinara, and a final layer of matzo. Top with the remaining ?? coup marinara and 1 cup mozzarella, the n with the pepperoni and oregano
Cover snugly with foil, set on a baking sheet and bake for 30 minutes. Uncover the pan and bake until golden and bubbling for about 15 minutes. Let cool for 20 minutes before cutting.
This recipe was styled by chef Karen Pickus for Good Morning America.
Recipe courtesy Everyday With Rachael Ray Magazine
Other Recipes That You Might Like