Rachael Ray's Sausage and Broccoli Rabe Patty Melts
This Savory Sandwich Will Become a Dinner Staple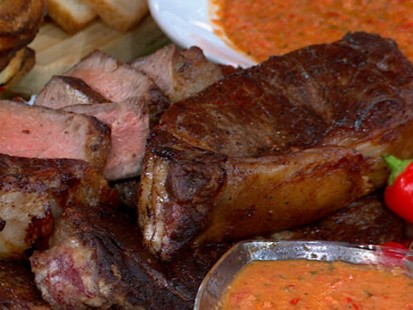 Famous cooking personality prepares summertime classics on "GMA."
From the kitchen of Rachael Ray
|
Rach includes John's favorites in this patty melt of homemade sausage and broccoli rabe with Italian seasonings.
Ingredients
1/2 pound broccoli rabe
1 1/2 pounds ground pork, chicken or turkey
Salt and pepper
1 1/2 teaspoons fennel seed (half a palmful)
1 small chili pepper, seeded and finely chopped or 1 teaspoon chili flakes or Italian ground chili pepper
3-4 cloves garlic, grated or pasted
2-3 tablespoons onion, finely grated with its juice
1 tablespoon paprika (a scant palmful)
1/3 cup grated Pecorino Romano (a rounded handful)
Extra virgin olive oil (EVOO), for liberal drizzling
8 slices hand-cut white bread, no more than 1/2-inch thick
3 tablespoons butter, melted
1/2 cup giardiniera (hot pickled vegetables), finely chopped
8 deli-slices provolone cheese
Cooking Directions
Bring a pot of water to a boil and salt it. Blanch the broccoli rabe for 5 minutes; drain and cool. Finely chop and reserve.
Place the ground meat in a bowl and season with salt, pepper, fennel seed, chili, garlic, the onion and its juice, paprika, Pecorino Romano cheese, the chopped rabe and a healthy drizzle of EVOO, twice around the bowl. Mix and form four large, thin patties about a half-inch thick.
Heat a griddle or cast iron pan over medium-high heat. Cook the patties for 3-4 minutes on each side. Remove to plate. Reduce the heat to medium. Wipe the pan clean.
Brush the bread on one side with melted butter. Build the patty melts: a slice of bread with the buttered side facing out, some giardiniera, 1 slice of cheese, a patty, another slice of cheese and bread with the buttered side facing up. Grill giardiniera patty melts until deeply golden on both sides and giardiniera cheese has melted. Cut giardiniera patty melts corner-to-corner and serve.
Recipe courtesy Rachael Ray.
This recipe was styled by chef Karen Pickus for Good Morning America.
Other Recipes That You Might Like