Rachael Ray's Veg-Head Three-Bean Chili
Chili for Vegetarians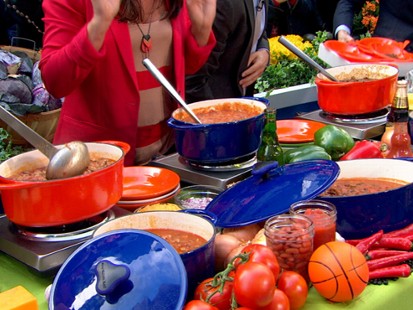 TV-chef puts unique twists on guacamole and a chili bar that is sure to impress.
From the kitchen of Rachael Ray
|
This chili is great for the vegetarians in your family.
Ingredients
2 tablespoons (2 turns around the pan) olive or vegetable oil
1 medium yellow skinned onion, chopped
1 large red pepper, seeded and chopped
1 large green pepper, seeded and chopped
1 large jalapeno pepper, seeded and chopped
4 cloves garlic, crushed and chopped
1 cup pale beer or vegetable stock/broth
1 (32- ounce) can crushed tomatoes
1 (14-ounce) can black beans
1 (14-ounce) can dark red kidney beans
1 tablespoon ground cumin
2 tablespoons chili powder
1 tablespoon cayenne hot pepper sauce, several drops
1 teaspoon coarse salt
1 cup spicy vegetarian refried beans
For the toppings:
8 ounces (2 cups shredded) spicy monterey jack or smoked cheddar
Chopped scallions, whites and greens
Diced fresh seeded plum tomato
Blue and red corn tortilla chips or black bean tortilla chips, for dipping
Cooking Directions
Over moderate heat, add oil to a deep pot and combine onion, peppers, and garlic. Saute for 3 to 5 minutes to soften vegetables. Deglaze pan with beer or broth, add tomatoes, black beans, red kidney beans, and stirring to combine.
Season chili with cumin, chili powder, hot sauce, and salt. Thicken chili by stirring in refried beans. Simmer over low heat about 5 to 10 minutes longer, then serve up bowls of chili and top with shredded cheese, scallions, and tomatoes. Place bowls on charger plates piled with assorted tortilla chips.
This recipe was styled by chef Karen Pickus for Good Morning America.
Recipe courtesy Rachael Ray.
Other Recipes That You Might Like