Rachel Willen's Panettone and Eggnog Bread Pudding
"Food Network"'s Chopped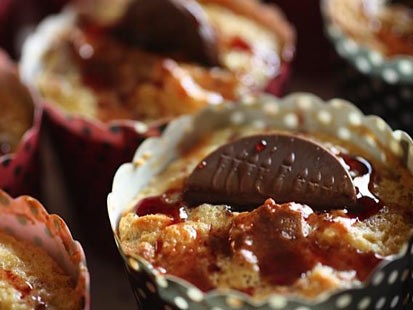 From the kitchen of Rachel Willen
|
Rachel Willen's panettone and eggnog bread pudding recipe for "Good Morning America."
Ingredients
For the bread pudding:
5 cups Panettone bread, crusts removed, cut into 1-inch cubes
1/2 cup melted butter
1 cup sugar
2 teaspoons vanilla extract
2 cups eggnog
5 eggs, beaten
3/4 teaspoon freshly nutmeg, grated
Large Chocolate Coins (Chanukah Gelt) or large chocolate discs or chips
For the syrup:
1/2 cup pomegranate molasses
2 cups fruity red wine (pinot noir)
1 cup granulated sugar
1 bay leaf
1 teaspoon vanilla extract, or half a fresh vanilla bean, split down the middle, lengthwise
1 large cinnamon stick
Cooking Directions
Place the pomegranate molasses, red wine, cinnamon, bay leaf, vanilla and sugar in a small sauce pan over medium-high heat and stir to combine well and dissolve the sugar. Bring to a simmer and reduce heat so that the mixture continues to simmer briskly and reduce, but not boil hard. Keep and eye on this to make sure it doesn't over-reduce and burn. Total cooking time approximately 12 minutes, and the overall volume will be ¾ of the original volume. When done, the bubbles should look small and tight and the consistency of the liquid is somewhat syrupy. It will be a thin syrup while hot, but will thicken as it cools.
While the syrup is reducing, place the eggnog, grated nutmeg, bread cubes, eggs, vanilla, sugar and butter in a large bowl. Gently toss so that bread is fully coated. Allow to sit for 30 minutes or until bread cubes seem sufficiently soaked with the egg mixture.
Preheat oven to 350 degrees F. Divide the bread mixture evenly into the individual ramekins or pour it all into one appropriately sized baking dish.
If using individual bowls, place them on a parchment or foil lined baking pan, and bake for 12-15 minutes or until the pudding gets puffy and the center is firmly set. (You can also use individual cupcake forms or a muffin pan.) If using a baking dish, bake for 30-40 minutes or until it gets puffy and the center is firmly set. Begin checking for doneness early as oven temperatures vary and since the egg mixture is already "cooked" this won't take as long as a bread pudding that starts with raw eggs.
Unwrap one chocolate coin for each ramekin (or 6-8 for large dish).When the puddings are done, remove from oven. Take the chocolate coins and push one coin per individual bowl, down into the center of the hot pudding. (Or use large chocolate discs or chocolate chips here too.) If using a baking dish, place a coin down into the pudding at even intervals so that each serving has a hidden melted coin in it.
Serve drizzled with the pomegranate/red wine syrup.
Other Recipes That You Might Like