Rachel Willen's Pumpkin Gingerbread Cheesecake
A Festive Combination of Your Favorite Flavors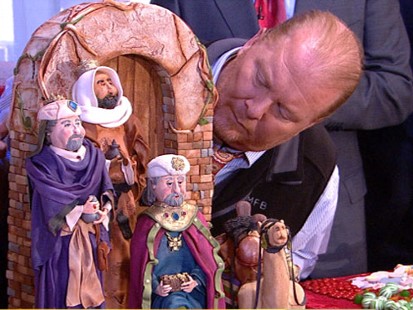 Chef Rachel Willen, Mario Batali determine the winner of decorating contest.
From the kitchen of Rachel Willen
|
Ingredients
For the crust:
3 cups of gingerbread cookie crumbs (use whole cookies and grind to fine crumb in food processor)
9 tablespoons of butter, melted
For the filling:
1 cup plain pumpkin puree
3/4 teaspoon ground cinnamon
1/8 teaspoon ground allspice
1/8 teaspoon freshly grated nutmeg
1/2 teaspoon ground ginger
2 1/2 pounds cream cheese, room temperature (5 packages)
1 3/4 cups sugar
1/2 cup all-purpose flour
3/4 cup sour cream
1 1/4 teaspoon pure vanilla extract
1/4 teaspoon salt
5 large eggs
Special equipment: springform pan (10-inch would be optimal. smaller than that and you'll have batter left over.)
Cooking Directions
Preheat oven to 350 degrees. Bring two quarts of water to a simmer in tea kettle or other pot that will be easy to pour from. Make the crust: Combine the cookie crumbs with the melted butter. Place the crumb mixture inside the spring form pan and with your fingertips, gently and evenly press the crumbs down onto the bottom and up the sides of the pan to form a crust. Take care to make the thickness of the crust as even as possible.
Make the filling: Place 1 cup of the pumpkin puree in a medium bowl. Stir in cinnamon, allspice, nutmeg, and ginger. Reserve.
Place the spring form pan on top of two layers of foil and tightly wrap the exterior of the pan. Put the cream cheese into the clean bowl of an electric mixer fitted with a clean paddle attachment; mix on medium speed until fluffy. Gradually add sugar and flour, mixing until smooth and stopping to scrape the bottom of the mixing bowl to fully incorporate cream cheese that may get stuck on the bottom. Mix in sour cream, vanilla, and salt. Mix in eggs, 1 at a time, until just combined; try not to over mix and liquefy batter.
Stir 2 cups of the cream cheese mixture into spice pumpkin mixture; set aside. Pour remaining cream cheese mixture into prepared pan on top of the crust. Drop dollops of squash-cream cheese mixture on top. Gently swirl with a butter knife creating a "marble effect".
Set the pan in a large, shallow roasting pan. Transfer to oven. Carefully pour enough of the simmering water into roasting pan to come halfway up sides of cheesecake. Bake until cake is set but still slightly wobbly in center, 50 to 60 minutes. Turn off oven; let stand in oven with door slightly ajar 1 hour. Let cool completely on a wire rack. Refrigerate at least 6 hours or overnight. Run a knife around sides of cake; unmold.
Recipe courtesy Rachel Willen.
Other Recipes That You Might Like