Rachel Willen's Roasted Root Vegetable Tzimmes
Jewish Classic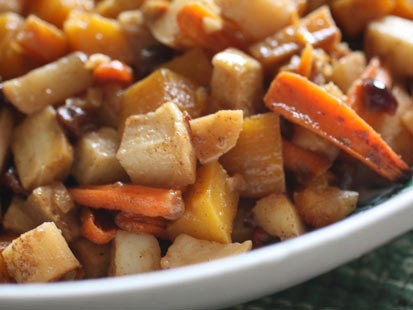 From the kitchen of Rachel Willen
|
Rachel Willen is the founder of Food-fix.com. Here's her recipe for the Jewish classic Root Vegetable Tzimmes.
Ingredients
1 16-oz bag of baby carrots, cut lengthwise, in half
3 medium parsnips, peeled and cut into 1 inch cubes
2 medium purple top turnip, peeled and cut into 1 inch cubes
1 butternut squash, peeled, seeded, and cut into 1 inch cubes
1/2 cup raisins
1/2 cup dried cranberries
6-8 dried apricots, diced
3-4 pieces of crystalized ginger, finely diced
1 1/2 - 2 teaspoons cinnamon
1 tablespoon cumin
1/2 teaspoon freshly ground whole nutmeg (if available, if not use already ground)
1 teaspoon orange zest (optional as garnish)
Juice of one orange (or 1/2 cup store-bought)
1/2 cup honey
1/3 cup chicken stock
1 teaspoon kosher salt (or more to taste after roasting)
Cooking Directions
Preheat oven to 375 degrees. Prep all ingredients as specified (this is the fuss part.)
Combine everything in on large roasting pan, including fruit, seasoning, spices and liquid. Cover tightly with snugly fitting lid or aluminum foil. This will allow the vegetables to steam and par cook. (this is the no fuss part.)
Roast for 25 minutes covered. Remove cover, gently toss vegetables to recoat in liquid. Roast for another 20 minutes or until vegetables are nicely glazed and lightly browned. Garnish with zest of one orange (optional).
Recipe courtesy Rachel Willen.
Other Recipes That You Might Like