Rao's Summer Tortellini Salad
A Great Barbecue Side Dish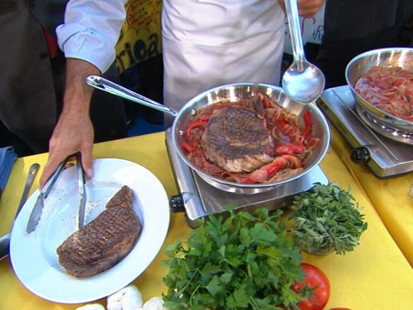 The New York restaurateur is releasing a new cookbook, "Rao's on the Grill."
From the kitchen of Frank Pellegrino, Jr.
|
A collection of bright summer vegetables makes this one great-looking and fine-tasting salad. With its vinaigrette dressing, it is a little more traditional than the Creamy Tortellini Salad with Dill and Walnuts, making it a good choice when you have other items on the menu that are creamy.
Ingredients
1 ½ pounds frozen cheese tortellini
2 cups pure olive oil
1 yellow onion, cut into thin half-moons
½ cup apple cider vinegar
½ cup finely chopped fresh flat-leaf parsley
Salt and freshly ground black pepper
1 pint cherry tomatoes, quartered
1 medium cucumber, peeled, seeded, and diced
1 red bell pepper, cored, seeded, and diced
1 yellow bell pepper, cored, seeded, and diced
Cooking Directions
Bring a large pot of salted water to a boil over high heat. Add the tortellini and cook until tender according to the package directions. Drain and rinse under cold running water. Spread on a rimmed baking sheet. Drizzle the tortellini with 2 tablespoons of olive oil and toss. Let cool.
Heat 2 tablespoons of olive oil in a medium skillet over high heat. Add the onion and cook, stirring often, until it begins to soften, about 3 minutes. Reduce the temperature to medium and cook, stirring often, until the onions are golden brown, about 10 minutes. Transfer the onions to a large bowl, season lightly with salt, and let cool.
Pour the vinegar into a medium bowl. Whisk in the remaining 1 ¾ cups olive oil. Add the parsley and whisk until combined. Season the vinaigrette with salt and pepper to taste.
Add the tortellini to the onions in their bowl. Add the tortellini, cherry tomatoes, cucumber, and the red and yellow bell peppers. Add the vinaigrette and mix well. Let stand for 10 minutes. (The salad can be made up to 4 hours ahead, covered and stored at room temperature, but reserve ½ cup of the vinaigrette. When ready to serve, add the remaining vinaigrette and season again with salt and pepper.) Remove from the refrigerator 1 hour before serving.
Courtesy of Rao's On the Grill by Frank Pellegrino, Jr.
This recipe was styled by chef Karen Pickus for Good Morning America.
Other Recipes That You Might Like