Wolfgang Puck's Rapid Butternut Squash Soup with Sauteed Apples
A Fall Favorite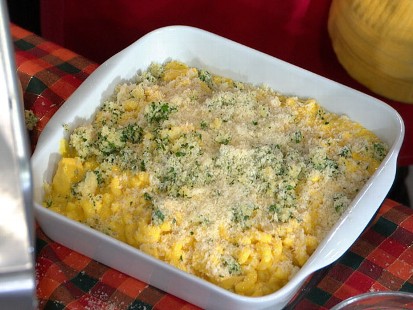 Celebrity chef makes a delicious side dish with Baked Macaroni and Cheese with Turkey.
From the kitchen of Wolfgang Puck
|
Known for his fresh, seasonal California cuisine, Wolfgang Puck is one of America's premier chefs. Take your Thanksgiving to the next level this year with Wolfgang's recipe for Rapid Butternut Squash Soup with Sauteed Apples.
Ingredients
1 tablespoon vegetable oil
1 white onion (about 4 ounces), peeled, trimmed, and finely diced
1/2 teaspoon ground cinnamon
1/4 teaspoon ground ginger
1/4 teaspoon grated nutmeg
2 tablespoons honey
3 3/4 pounds butternut squash, halved, peeled, seeded, and cut into 1-inch cubes
1 acorn squash, about 1 3/4 pounds, halved, peeled, seeded, and cut into 1-inch cubes
6 cups organic chicken stock or vegetable stock
1/2 teaspoon kosher salt
1/8 teaspoon freshly ground white pepper
1 sprig fresh rosemary
For the Garnish:
1 tablespoon unsalted butter
1 tart-sweet, crisp organic apple such as a Granny Smith, cored and cut into 1/4-inch dice
2 teaspoons lemon juice
1/2 tablespoon dark brown sugar
4 tablespoons dried cranberries
2 tablespoons coarsely chopped toasted walnuts or pecans
Cooking Directions
Heat a pressure cooker with the lid off. Add the oil and sauté the onion, stirring frequently, just until it begins to turn golden, 3 to 5 minutes. Add the cinnamon, ginger, and nutmeg and sauté, stirring, until fragrant, about 1 minute longer. Add the squash cubes and the honey and cook, stirring, until the squash begins to soften, about 5 minutes.
Add the stock, rosemary sprig, salt, and white pepper. Secure the lid on the pressure cooker and bring to pressure, following the manufacturer's instructions. Cook under pressure for 8 minutes.
Release the pressure and, when fully released, remove the lid. Take out and discard the rosemary. With an immersion blender, or working in batches in a blender or food processor following manufacturer's instructions, puree the soup. Taste and adjust the seasoning, as needed, with more salt and pepper. Keep warm.
For the garnish, melt the butter in a nonstick skillet over medium heat. Add the apple, dried cranberries, lemon juice, and brown sugar and cook, stirring occasionally, until tender, 5 to 7 minutes. Stir in the walnuts or pecans.
To serve, ladle the soup into individual heated bowls. Spoon some of the apple-cranberry mixture onto the center of each serving.
Recipe courtesy Wolfgang Puck
This recipe was styled by chef Karen Pickus for Good Morning America.
Other Recipes That You Might Like