Recipe: Sandra Lee's Tombstone Treats
Just in Time for Halloween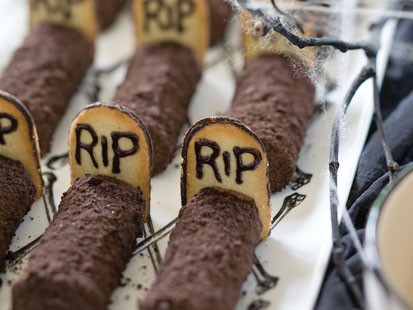 From the kitchen of Sandra Lee
|
Ingredients
1 (13-ounce) box chocolate-coated cream filled cake rolls, Little Debbie??
1 (12-ounce) container whipped chocolate frosting, Betty Crocker??
1 cup chocolate cookie crumbs
12 dark chocolate-filled vanilla wafer sandwich cookies, Pepperidge Farm??
Black decorating gel, Betty Crocker??
Cooking Directions
Cover the top and sides of cake rolls with chocolate frosting, and roll in cookie crumbs. Cut 1 rounded end of cookies to make tombstone shapes. Decorate rounded tops of cookies as desired. Using chocolate frosting, attach decorated cookies, straight ends down, to one end of covered cake rolls.
Makes 12 treats.
*Reprinted with permission by Hoffman Media, LLC www.semihomemademag.com
Other Recipes That You Might Like