The Meatball Shop's Reuben Meatballs
Gourmet Meatballs Inspired by the Deli Sandwich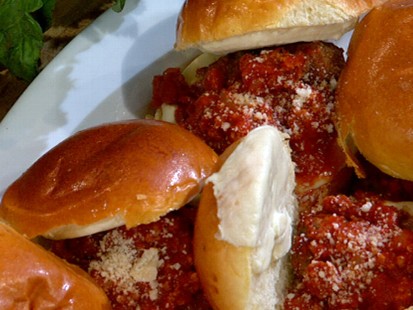 Daniel Holzman and Michael Chernow put unique twists on the Italian favorite.
From the kitchen of The Meatball Shop
|
"The Meatball Shop"'s Reuben meatballs with ground pork, corned beef, sauerkraut, and rye bread, are inspired by the classic deli sandwich. Try the recipe, which makes about 30 golf ball-size meatballs, at home.
Ingredients
1 pound Corned beef, diced finely
1 pound ground pork
1 ¼ cup chopped sauerkraut (squeezed to remove as much liquid as possible)
¾ pound swiss cheese, Grated with a large box grater
1 tsp salt
1 tsp caraway seeds
2 slices rye bread, diced finely
5 eggs
2 tbsp olive oil
Cooking Directions
Preheat the oven to 450 degrees F.
Combine all of the ingredients except for the olive oil in a large mixing bowl and mix by hand until thoroughly incorporated.
Drizzle the olive oil into a large baking dish (9X13) making sure to evenly coat the entire surface (use your hand to help spread the oil).
Roll the mixture into round, 1 ½ inch meatballs making sure to pack the meat firmly.
Place the balls into the oiled baking dish such that all of the meatballs are lined up evenly in rows and are touching each of their four neighbors in a grid.
Roast until firm and cooked through (about 22 minutes).
Allow the meatballs to cool for five minutes before removing from the tray.
Recipe courtesy The Meatball Shop.
This recipe was styled by chef Karen Pickus for Good Morning America.
Other Recipes That You Might Like