Richard Blais' Kale Caesar Salad With Tofu Dressing
Tofu Is the Secret Ingredient in This Kid-Friendly Dinner Salad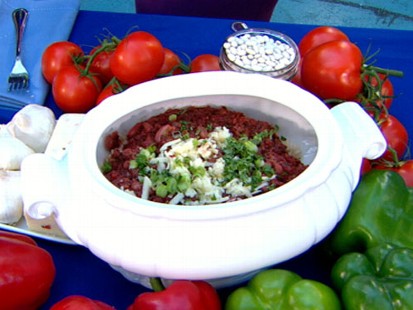 The "Top Chef All-Stars" winner prepares kid-friendly dishes with a secret healthy ingredient.
From the kitchen of Richard Blais
|
"Top Chef" star Richard Blais upgrades your average back-to-school dinner recipe. Blais has created this kid-friendly Caesar salad, sneaking in tofu in the dressing, to make more health-conscious.
Ingredients
10 ounce Silken tofu
1 lemon, zest
1 lemon, lemon juice
5 cloves of garlic, minced
2 teaspoons Worstershire sauce
3 teaspoons Parmesan cheese, grated
1 teaspoon Anchovy, smashed
3 tablespoons Extra virgin olive oil
1/4 cup croutons
1 large bag of baby kale
Salt & black pepper to taste, but be liberal with the pepper
Cooking Directions
To make the dressing, puree the tofu in a blender until smooth and thick.
Add half of the lemon zest, two thirds of the Parmesan cheese and the remaining ingredients -- except the kale and
croutons.
Toss the kale with the blended dressing and top with the remaining cheese, croutons and lemon zest.
NOTE: You can omit anchovy and use vegan Worshtershire sauce for a vegan option. Add a touch of water if the tofu is too thick. Drain the dressing for a bit if too loose.
This recipe was styled by chef Karen Pickus for Good Morning America.
Other Recipes That You Might Like