Richard Blais' Whole Wheat Pasta Salad with Feta and Jalapeno
Serve This Up at Your Next Barbecue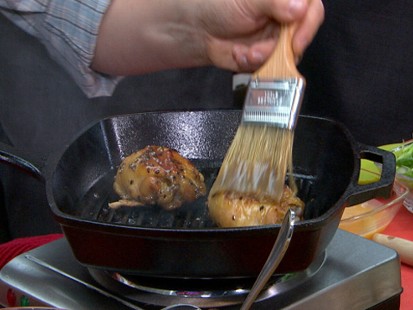 Executive chef, owner of The Spence prepares a meal fit to kick off summer.
From the kitchen of Richard Blais
|
Pine nuts give this pasta salad a nice crunch. Currants add a bit of sweetness.
Ingredients
4 ounces dry whole wheat rotini
3 cups arugula
1 cup grape cherry tomatoes, halved lengthwise
1/2 cup crumbled feta cheese (2 ounces)
1/2 cup sliced celery stalk
1 cup prosciutto coursely chopped
3 tablespoons olive oil
3 tablespoons white balsamic vinegar
Salt and freshly ground black pepper
1/4 cup pine nuts, toasted
1/4 cup currants
3 tablespoons shaved jalapeño
3 tablespoons chopped basil
3 teaspoon chopped garlic
1/4 cup small chopped red onion
Cooking Directions
Cook pasta according to package directions. Drain, rinse with cold water, and drain again.
In a pan, cook the onion and garlic with olive oil until they release their aromas nicely, then but the mixture in a large salad bowl, andante toss with remaining ingredients & cooked pasta.
Drizzle with olive oil and vinegar, tossing to coat. Season to taste with salt and freshly ground pepper. Divide salad evenly among four dinner plates.
Recipe courtesy Richard Blais.
This recipe was styled by chef Karen Pickus for Good Morning America.
Other Recipes That You Might Like