Robert Irvine's Grilled Watermelon Mint Smoothie
Give Your Smoothie a Hint of Smoke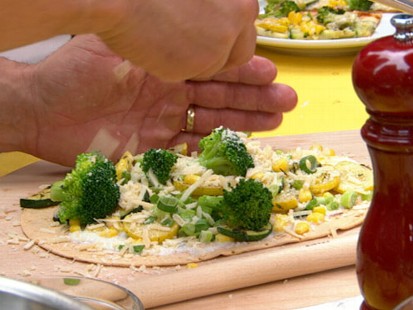 Host of "Restaurant Impossible" serves up a Father's Day feast.
From the kitchen of Robert Irvine
|
This unusual smoothie uses grilled fruit for an added depth of flavor.
Ingredients
1 seedless watermelon plank (2 inches thick, 10 inches long and 6 inches wide)
2 tablespoons granulated sugar
1/4 teaspoon kosher salt
4 cups low-fat yogurt
1 cup unsweetened apple juice
1 cup ice
1/4 cup honey
1/4 teaspoon vanilla bean pulp
12 fresh mint leaves, plus more julienned for garnish
Watermelon wedges, for garnish
Cooking Directions
Preheat a grill to high heat (400 degrees F).
To grill the watermelon, first sprinkle with the sugar and salt. Grill quickly, cooking each side for 2 minutes and flipping with a wide spatula. Once the watermelon is cooked, remove from the grill and add to a blender, along with the yogurt, apple juice, ice, honey and vanilla. Puree until smooth, 1 to 2 minutes. Finally, add the mint leaves, pulse 5 to 6 times and serve. Garnish with watermelon wedges and mint.
This recipe was styled by chef Karen Pickus for Good Morning America.
Recipe courtesy Robert Irvine's eat! Robert Irvine's nosh, All rights reserved 2012
Other Recipes That You Might Like