Rocco DiSpirito's Cheeseburger
Dig Into This Burger Without Any Guilt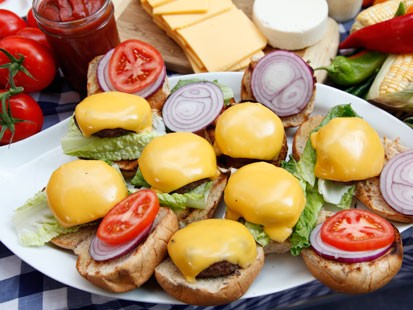 From the kitchen of Rocco DiSpirito
|
While working on this book the thought kept running through my mind: "A cheeseburger sure sounds good right now." Thankfully, for my health's sake, that wasn't the only thing rattling around my brain. I had to think of how to create a healthy cheeseburger. I know that sounds like the ultimate contradiction -- "healthy" and "cheeseburger" -- but I think I got it: This one is fewer than half the calories of the typical one you'd get in a restaurant. I even made my own "special" sauce to go on the burger by blending fat-free mayonnaise, sugar-free relish, and reduced-sugar ketchup.
Ingredients
4 whole wheat hamburger buns
Nonstick spray
16 oz. 90% lean ground beef, formed into 4 patties
Salt
Freshly ground black pepper
4 slices of 2% reduced-fat-milk cheese, such as Borden's 2% milk reduced-fat sharp singles
1/3 cup fat-free mayonnaise
2 tablespoons no-sugar-added sweet relish, such as Mt. Olive
1 tablespoon reduced-sugar ketchup, wuch as Heinz
4 leaves of Romaine lettuce, broken in half
4 slices tomato
4 slices red onion
Cooking Directions
Preheat a grill pan over high heat.
Split the buns in half, and spray the split surfaces lightly with cooking spray. Place the buns, cut side down, on the grill. Allow the buns to char slightly, and then transfer them to a platter.
Hold the grill pan away from the stove while you coat the surface with cooking spray. Season the burger patties with salt and pepper to taste. Place the burger patties on the grill, and cook for about 2 1/2 minutes per side for rare. During the last minute put 1 slice of cheese on each burger.
In a small bowl, mix together the mayonnaise, sweet relish and ketchup. Set aside.
To assemble the burgers, place the burgers on top of the bottom buns. Pile lettuce, tomato, red onion, and Russian dressing on top of each burger, and set the bun tops in place.
This recipe was styled by chef Karen Pickus for Good Morning America.
Recipe courtesy of Rocco DiSpirito's Now Eat This! Diet.
Other Recipes That You Might Like