Rocco DiSpirito's Chicken Marsala
A Guilt-Free Recipe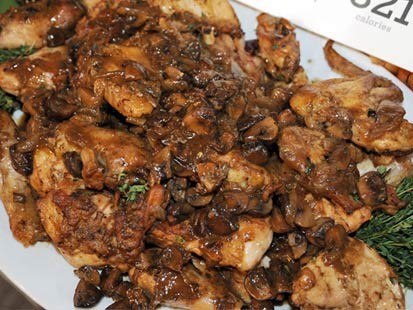 From the kitchen of Rocco DiSpirito
|
Ingredients
1 (3½-pound) chicken cut into 12 pieces: breasts split and halved, thighs halved, 2 drumsticks, 2 wings
Salt
Freshly ground black pepper
Olive oil cooking spray
1 cup sliced onion
24 cremini or baby bella mushrooms, cut into quarters
½ cup plus 2 tablespoons sweet Marsala wine
1 teaspoon fresh thyme
1 cup fat-free, reduced-sodium chicken
broth, such as Swanson's
Cooking Directions
Preheat the oven to 350°F. Place the chicken on a clean work surface. Season with salt and pepper.
Coat a large nonstick skillet with 9 seconds of cooking spray. Heat over high heat, add the chicken pieces skin-side-down, and cook until browned, about 3 minutes; turn the pieces and brown for about 3 minutes on the other side; place the chicken on a plate and set aside.
Pour the oil and rendered fat out of the skillet. Turn the heat to medium, add the onions, and cook until they soften, about 5 minutes. Add the mushrooms and cook for another 5 minutes, until they soften. Pull the skillet away from the heat and tilt it away from you.
Pour the Marsala into the skillet, move the skillet carefully back over the heat, and reduce the Marsala by half. The wine may flame up; this is fine—just keep your hands and face away from the skillet during this step. Add the browned chicken and the thyme to the skillet and stir to coat the chicken with the onion and mushroom mixture.
Place in the oven to finish cooking, about 15 minutes. Remove the skillet from the oven and place the chicken on a clean cutting board. Scrape the sauce back into the skillet and remove the skin entirely from each piece. Divide the chicken among 4 plates.
Everyone gets half a breast and half a thigh; 2 people get a drumstick, and 2 people get a wing. Add the chicken broth to the skillet with the onions and mushrooms, place over medium heat, and bring to a simmer. Add any cooking juices from the cutting board to the skillet while scraping any browned bits from the bottom of the skillet. Simmer until the broth is reduced to form a glaze-like sauce around the onions and mushrooms, about 2 minutes. Spoon the onions and mushrooms on and around the chicken.
This recipe was styled by chef Karen Pickus for Good Morning America.
Recipe courtesy Rocco DiSpirito.
Other Recipes That You Might Like