Rodriguez Family's Chicken Tacos
This Delicious Family Dinner Is a Favorite of 'Modern Family' Star Rico Rodriguez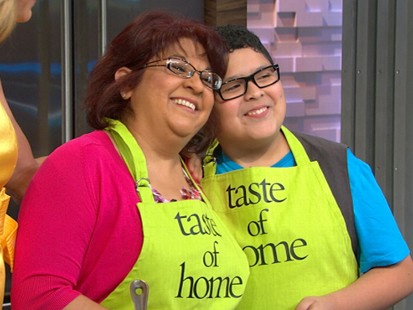 Rico Rodriguez and his mother, Diane, prepare their Mother's Day chicken tacos.
From the kitchen of Rico Rodriguez
|
This shredded chicken taco recipe is a favorite of "Modern Family" star Rico Rodriguez. Rico and his mom, Diane Rodriguez appeared on "Good Morning America" and cooked up the family-favorite dish, which is perfect for your next taco night.
Check out the recipe and more on the Taste of Home website.
Ingredients
2 pounds boneless skinless chicken thighs
1 tablespoon canola oil
1 tablespoon all-purpose flour
1 can (8 ounces) tomato sauce
1 tablespoon taco seasoning
1 teaspoon garlic powder
1/2 teaspoon salt
1/8 teaspoon pepper
16 corn tortillas (6 inches), warmed
Optional toppings: shredded cheddar cheese, shredded lettuce and chopped tomatoes
Cooking Directions
Place chicken in a Dutch oven; add water to cover. Bring just to a boil. Reduce heat; simmer, uncovered, 10-12 minutes or until a thermometer reads 180°.
Using tongs, remove chicken from water ; cool slightly. Reserve 1/2 cup cooking liquid for sauce. When cool enough to handle, shred chicken.
In a large saucepan, heat oil over medium heat. Stir in flour until smooth; cook and stir 2-3 minutes or until golden brown. Gradually stir in reserved cooking liquid. Return to a boil; cook and stir 2 minutes longer.
Stir in tomato sauce and seasonings; heat just to a boil. Stir in shredded chicken. Serve with tortillas with toppings of your choice.
Recipe courtesy the Rodriguez family.
This recipe was styled by chef Karen Pickus for Good Morning America.
Other Recipes That You Might Like