Carla Hall's Rustic Bacon-Apple Pie
Top Chef Tastes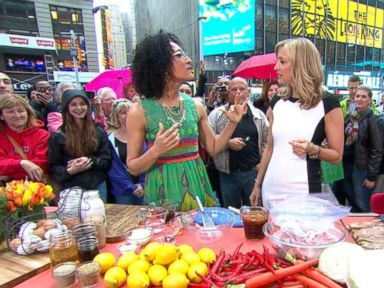 "The Chew" star stops by "GMA" with some delicious cooking tips.
From the kitchen of Carla Hall
|
"The Chew� co-host and former "Top Chef� star Carla Hall knows a thing or two about making food to please a crowd. Take a page from her cookbook "Carla's Comfort Food� and make her recipe for Rustic Bacon-Apple Pie below.
Ingredients
Rustic Bacon-Apple Pie
2 teaspoons cornstarch
1 teaspoon vanilla extract
1/4 cup plus 1 tablespoon water
1 tablespoon unsalted butter
1 teaspoon canola oil
6 apples, a mix of tart and sweet, such as Granny Smith and Golden Delicious, cut into quarters, cored, and thinly sliced crosswise
1/3 cup packed light or dark brown sugar
1 teaspoon fresh lemon juice
1/2 teaspoon kosher salt
All-purpose flour, for rolling
Cheddar Bacon Crust (below)
1 large egg, beaten 2 tablespoons coarse sugar
Cheddar Bacon Crust
1/2 teaspoon kosher salt
1/3 cup cold water
2 ounces thick-cut bacon, finely diced and frozen
2 cups all-purpose flour
2 ounces sharp cheddar cheese, grated (1/2 cup) and chilled
8 tablespoons (1 stick) unsalted butter, cut into 1/4-inch-thick slices and chilled
Cooking Directions
Cheddar Bacon Crust: In a small bowl, stir the salt into the cold water until it dissolves. In the bowl of a food processor, use your hands to toss the bacon with the flour until well coated. (Watch out for the blade!) Pulse until coarse crumbs form. Transfer to a large bowl. Toss the cheese and butter into the flour mixture, and then press in the butter with your fin- gertips until coarse crumbs form with a few bigger pieces remaining. Add the salted water all at once, and quickly gather the dough with your hands into a large, shaggy clump.
Divide the dough into 2 equal pieces, shape into disks, cover tightly with plastic wrap, and chill until firm, at least 1 hour and up to 3 days.
Rustic Bacon-Apple Tart: In a small bowl, stir together the cornstarch, vanilla, and 1/4 cup water until smooth.
In a very large skillet, melt the butter in the oil over medium-high heat. Add the apples and cook, tossing and stirring occasionally, until lightly charred, about 5 minutes.
Add the brown sugar, lemon juice, and salt. Cook, stirring frequently, until the sugar dissolves, about 2 minutes. Add the cornstarch mixture and cook, stirring, until the liquid thickens, about 1 minute. Remove from the heat and let cool completely.
Preheat the oven to 375°F. Line a large rimmed baking sheet with parchment paper.
On a lightly floured surface and using a lightly floured rolling pin, roll each piece of dough into a 1/ 4 -inch-thick round. Transfer to the prepared baking sheet. Divide the cooled filling between the two rounds, leaving a 2-inch border. Fold and pleat the border up and around the apples, leaving the center open.
In a small bowl, beat the remaining 1 table- spoon water into the egg. Brush the egg wash over the dough, and sprinkle with the coarse sugar. Bake until the crust is golden brown, about 45 minutes. Cool completely on a wire rack.
Carlas' Tips: When my co-author, Genevieve, and I were making this recipe, we each took a round of dough to roll and shape the pies. I piled my apples into a dome and gathered the dough high up around them; she spread her apples into an even layer and folded the dough flat over them. It was fun to see how we instinctively shaped our rustic pies differently, even though our dough rounds were the same shape and size and we had equal amounts of apple. My tall pie baked up into soft apples in a tender crust; her pie turned into toothsome apples in a crisp crust. I love both styles! Try one of each or create your own rustic pie style.
If you don't have coarse sugar, sprinkle granulated on top.
Sprinkle sugar over the apples before baking, then serve with a scoop of ice cream.
Recipe courtesy Carla Hall with Genevieve Ko.
Other Recipes That You Might Like