Karla Martinez's Salsa Verde
A Twist On Tomato Salsa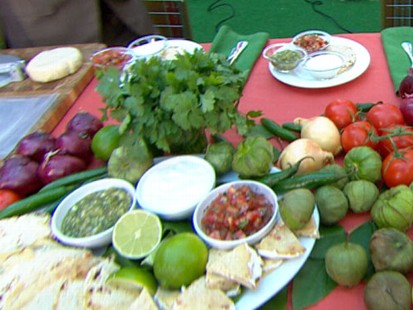 The host of "La Cocina de Karla" cooks up her favorite Latin American dishes.
From the kitchen of Karla Martinez's
|
Karla Martinez, the co-host of Univision's "Despierta America," helped celebrate the launch of the new TV network, Fusion, by dishing up some of her Latin recipes on "Good Morning America." Find out how to make her recipe for salsa verde below.
Ingredients
5 tomatillos, husks removed
1 Serrano chile (optional)
2 garlic cloves
1 cup freshly chopped cilantro
1 cup chopped onion
2 tablespoon olive oil
Cooking Directions
Rinse the tomatillos under cold water. Put them in a pot and cover them with water. Bring to a boil on medium heat. Reduce the heat and simmer uncovered until their color has changed and they are cooked and soft, but not falling apart, about 10 minutes.
Add the tomatillos to a blender along with the chile, garlic cloves and a teaspoon of salt. Puree until smooth. Stir in the chopped cilantro and onion. Taste for salt and add the olive oil.
This recipe was styled by chef Karen Pickus for Good Morning America.
Recipe printed with permission of Karla Martinez.
Other Recipes That You Might Like