Sandra Lee's Fried Potato Cakes
Try These Crispy Sides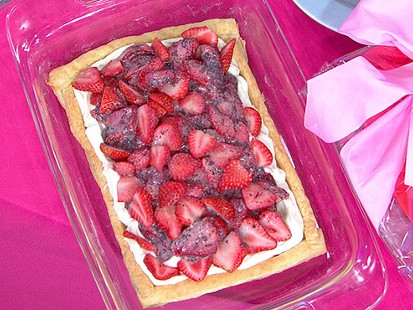 Sandra Lee's delicious Beef Wellington with romantic strawberry tart dessert.
From the kitchen of Sandra Lee
|
Leftover mashed potatoes from Thanksgiving? You have to try these!
Ingredients
Reserved bread crumbs $0.00
Reserved mashed potatoes $0.00
¼ cup shredded mozzarella cheese $0.25
1 large egg, beaten $0.11
1/8 tsp. cayenne pepper $0.02
1/3 canola oil $0.24
Kosher salt, to taste $0.00
Black Pepper, to taste $0.00
$0.62 in extra ingredients
Cooking Directions
In a shallow plate or pie dish, mix the bread crumbs with salt and pepper, to taste. In a large bowl, stir together the potatoes, cheese, egg, cayenne pepper, and salt and pepper to taste. Scoop out ¼ cup of the potato mixture and form it into a small patty. Gently press the patties into the seasoned bread crumbs, coating both sides, and set aside.
In a large skillet over medium heat, add the oil. When it is hot, add the potato cakes in 1 layer and cook until golden brown and crispy, about 2 minutes per side. Drain on brown paper and sprinkle with more salt and pepper while hot.
This recipe was styled by chef Karen Pickus for Good Morning America.
Recipe courtesy of Sandra Lee's cookbook, "Money Saving Meals and Round 2 Recipes".
Other Recipes That You Might Like