Sara Moulton's BBQ Chicken
An Easy No-Frills Summer Dish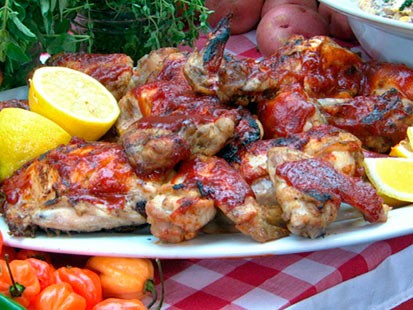 "GMA" food editor prepares the classic dish with grilled potato and corn salad.
From the kitchen of Sara Moulton
|
You'll have this simple bbq chicken recipe done in no time. Make your own bbq sauce or use store bought.
Ingredients
Two 3 1/2-pound chickens, each cut into 8 pieces
1/4 cup olive oil
kosher salt
4 cups BBQ sauce
Cooking Directions
Preheat grill so that one side is hot and the other is medium.
Toss the chicken pieces with the oil and several hefty pinches of salt in a large bowl.
Place the chicken, skin side down, on the hotter section of the grill. Cook until the skin starts to brown, 3 to 5 minutes. Move the pieces to the cooler section of the grill and continue grilling, until the skin is thoroughly browned, 5 to 7 minutes more.
Turn the pieces over and move them back to the hotter section of the grill. Brown the second side well, 3 to 5 minutes, then move the pieces back to the cooler side of the grill to finish cooking, about another 5 to 7 minutes.
During the last 5 minutes of cooking brush all the pieces generously with half of the sauce. Let the chicken rest for 10 minutes before serving. Serve with the remaining sauce on the side.
Recipe courtesy Sara Moulton.
This recipe was styled by chef Karen Pickus for Good Morning America.
Other Recipes That You Might Like