Sara Moulton's Chopped Salad
Full of Color and Crunch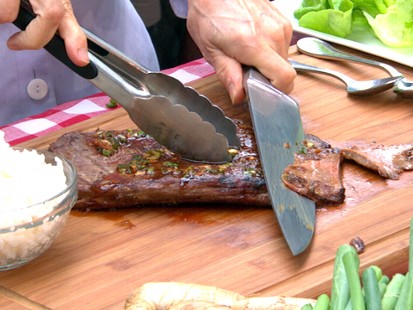 Chef also prepares lettuce wraps, chopped salad and blackberry-peach cobbler.
From the kitchen of Sara Moulton
|
This salad is great for picnics. It has all the components of a family favorite: beautiful color, satisfying crunch (courtesy of fresh zucchini, corn, and fennel), and a delicious dressing.
Ingredients
10 ounces frozen black-eyed peas (not thawed)
1 pound zucchini, trimmed
1 medium fennel bulb, stalks discarded
½ cup finely chopped scallions
2 tablespoons finely chopped fresh dill
3 tablespoons cider vinegar
2 tablespoons fresh lemon juice
1 tablespoon coarse-grain mustard
½ teaspoon black pepper
¼ teaspoon cayenne
2 tablespoons salt
1/3 cup extra-virgin olive oil
2¾ cups fresh corn (from about 4 ears)
1 pound frozen shelled edamame (not thawed)
Cooking Directions
Bring 3 quarts water to a boil in a 5- to 6-quart pot, then cook black-eyed peas, partially covered, until tender, about 20 minutes.
While peas are cooking, cut zucchini and fennel into ¼-inch dice. Whisk together scallions, dill, vinegar, lemon juice, mustard, black pepper, cayenne, and 1½ teaspoons salt in a large bowl. Add oil in a slow stream, whisking until emulsified. Add zucchini and fennel to dressing.
When peas are tender, transfer with a slotted spoon to a sieve set over a large bowl, reserving cooking water in pot, and cool peas slightly, then add to salad.
Return water to a boil and add remaining 1½ tablespoons salt, then cook corn and edamame, uncovered, until tender, 6 to 7 minutes. Transfer to sieve to cool slightly, then add to salad and stir to combine. Cool salad completely and serve chilled or at room temperature.
This recipe was styled by chef Karen Pickus for Good Morning America.
"Korean-Style Grilled Flank Steak," "Chopped Salad" and "Blackberry Peach Cobbler" from GOURMET WEEKDAY:All-Time Favorite Recipes by Condé Nast Publications. Copyright © 2012 by Condé Nast Publications. Reprinted by permission of Houghton Mifflin Harcourt Publishing Company. All rights reserved.
Other Recipes That You Might Like