Sara Moulton's Smoked Salmon on Crispy Potato Pancakes
A Chanukkah Favorite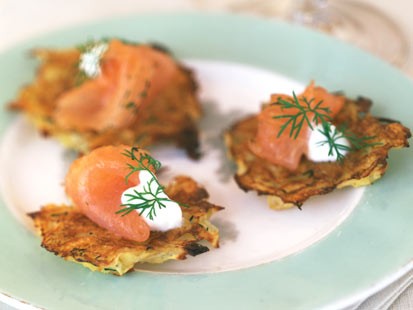 From the kitchen of Sara Moulton
|
This recipe for smoked salmon on crispy potato pancakes is a new tradition in Sara Moulton's house.
Ingredients
For the pancakes:
1 large baking potato
2 tablespoons unsalted butter
2 tablespoons vegetable oil
Kosher salt to taste
½ cup crème fraiche
1 tablespoon fresh lemon juice
1 tablespoon grated fresh or drained bottled horseradish
Freshly ground black pepper to taste
2 ounces smoked salmon, julienned
½ cup pickled red onions (recipe below)
For the pickled onions:
2 medium red onions, sliced ¼ inch thick
1 ½ cups cider vinegar
2 garlic cloves, peeled and halved
3 tablespoons sugar
1 tablespoon pickling spice
1 ½ teaspoons kosher salt
Cooking Directions
For the pancakes:
Peel and coarsely grate the potato. Working in batches, heat 2 teaspoons of the butter with 2 teaspoons of the vegetable oil in a large nonstick skillet over medium-high heat until very hot. Sprinkle 2 tablespoons of the potatoes into the pan, pressing into a 3-inch diameter with a spatula to create lacy, flat rounds of potato. Don't be concerned if you can see the bottom of the pan through gaps in the potatoes. Cook until well browned, pressing down firmly, 5 to 7 minutes per side. Season with salt while hot. (The cakes can be made several hours in advance and crisped in a hot oven before serving.)
Combine the crème fraiche, lemon juice, and horseradish in a small bowl and season with salt and pepper. Arrange 3 pancakes per serving on small plates. Top the pancakes with equal amounts of smoked salmon and a spoonful of horseradish cream. Top with a few pickled onions and serve.
For the pickled onions:
Combine the onions, vinegar, garlic, sugar, pickling spice and salt in a small saucepan. Bring to a boil over high heat. Reduce the heat to medium and simmer for 2 minutes. Remove from heat and cool to room temperature before serving. Chop fine.
Recipe courtesy "Sara Moulton Cooks at Home," Broadway Books, 2002
Other Recipes That You Might Like